After months of haggling, a deal has finally been reached between the Broncos and star Von Miller, the team confirmed via press release. On Friday afternoon, the two sides shook hands on a six-year agreement which will reportedly pay $114.5MM overall. Most importantly, the deal is said to effectively include $70MM in guarantees to be paid out by March of 2018.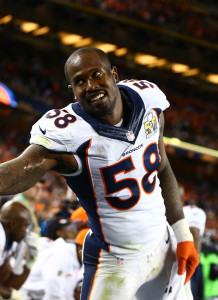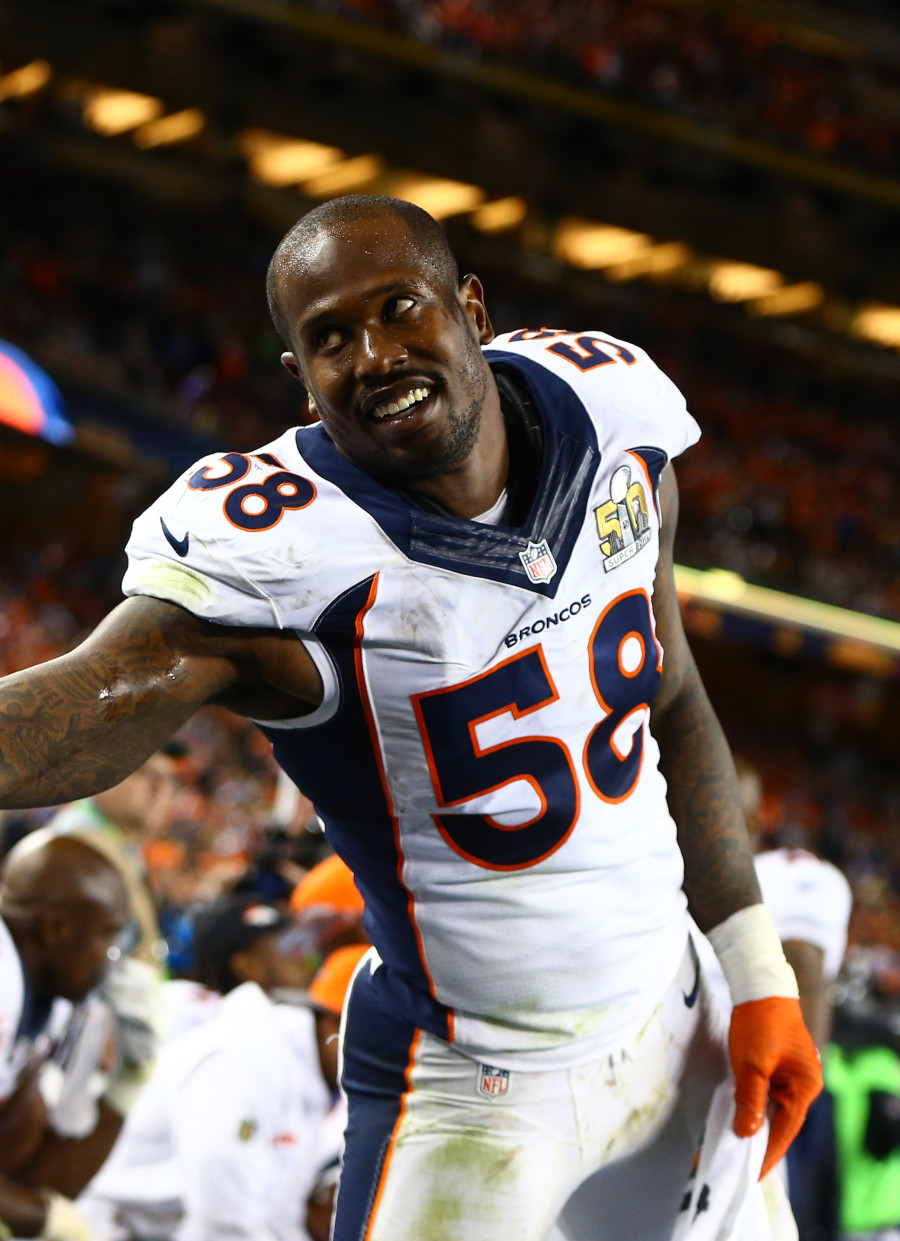 Here are the details on Miller's six-year, $114.5MM contract, via Mike Klis of KUSA:
The deal will include $23MM in upfront cash (through signing or roster bonus).
In total, the deal includes $70MM in guarantees.
In 2016, he'll see a $23MM signing bonus plus $2MM in salary and other bonuses, including his workout bonus. Total $25MM (fully guaranteed).
2017: $17MM in salary, bonuses (fully guaranteed). Total is $42MM after two years.
2018: $19MM in salary, bonuses. (Injury-only guarantee, converts to full guarantee in eight months, or March 17). Total is $61MM after three years.
2019: $17.5MM in salary, bonuses. (Injury-only guarantee but $9MM converts to full guarantee a year earlier, or in March 2018). Total is $78.5MM after four years with $70MM guaranteed.
2020 – 2021: Average of $18MM per year in salary and bonuses. (No guarantees). Total is $114.5MM after six years.
Miller is now the highest-paid defensive player in NFL history in terms of both average annual value and total guaranteed dollars. His contract is also the highest in the league for any non-quarterback. Miller beat out Eagles defensive tackle Fletcher Cox in just about every metric, except for his year one payout. Cox secured $27.3MM upfront while Miller received $25MM. After two years, Miller will receive $42MM guaranteed while Cox received $36.3MM. After three years, Miller sees $61MM versus Cox's $55.55MM.
Weeks ago, Miller and Denver reportedly agreed to the overarching framework of an extension and had informally worked out six-year, $114.5MM contract that would make Miller the league's highest-paid defensive player on an annual basis. However, those numbers only tell a fraction of the story. Miller's camp has been pushing for a better guarantee structure with more advantageous triggers (ie. when the guarantees would kick in) with an eye on topping the roughly ~$60MM guaranteed given to Dolphins defensive tackle Ndamukong Suh.
The $70MM guaranteed figure refers to "essential guarantees" and we'll have to wait a little longer to find out exactly what that means. Part of that figure will come via fully guaranteed cash, such as Miller's signing bonus. The rest of that money will come to Miller in the form of injury guarantees or "effective" guarantees, the latter being money that it would be nearly impossible for Miller not to earn. At some point soon, we'll know how it's portioned out. Either way, the majority of Miller's guarantee will be paid out in the first two years of the contract.
Over the summer, Miller announced that he would sit out the 2016 season if he was not given a satisfactory deal by today's deadline. Some questioned whether the reigning Super Bowl MVP would make good on that threat, but teammates believed him to be serious. Would Miller really have opted to stay on the couch rather than chase another ring and earn upwards of $14MM? Only No. 58 knows the answer.
Had Miller opted to sit out the 2016 season, the Broncos only would have been able to use the non-exclusive franchise tag on him and would not have had the exclusive franchise tag at their disposal. Typically, a team that is able to pry a player away on the non-exclusive tag would have to forfeit two first-round picks to the former team. However, per the terms of the CBA, the compensation price would have dropped from two first-round picks to a first and a third if Miller were to sit out.
Additional details provided by Adam Schefter and Jeff Legwold of ESPN.com, Jason Cole of Bleacher Report, and Ian Rapoport of NFL.com. Photo courtesy of USA Today Sports Images.
Follow @PFRumors