With the season fast approaching, we're chatting with beat writers from around the league to gain insight on each team's offseason and how those moves will impact the season ahead.
Now, we continue the series by discussing the Bills with Vic Carucci of The Buffalo News. You can follow Vic on Twitter @viccarucci and check out his stories here.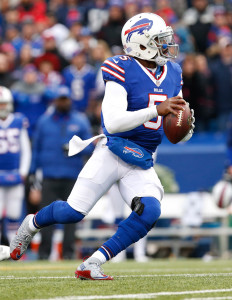 Zach Links: As you reported this week, the Bills and Tyrod Taylor's agent have been in frequent contact with regards to a long-term deal. Taylor is a unique case because while he had a strong 2015, he doesn't have a long track record of success. What sort of deal do you think would make sense for both sides?
Vic Carucci: I could see something that provides Taylor with enough guaranteed money to satisfy him (and, remember, you're talking about a player who played under sixth-round contract for most of his career as a backup in Baltimore) but also includes enough reasonable incentives to give him a good chance to move into the pay range he desires ($18MM or so) while also protecting the Bills. The biggest concern, for both parties, is the injury risk from Taylor's inclination to run, so I think that will be a factor as well in how the contract is structured.
Zach Links: To date, the Bills have not been willing to offer Stephon Gilmore the kind of monster long-term deal that he is after. However, a Gilmore extension would probably give Buffalo enough room to extend Taylor. Do you see the Bills and Gilmore working out an extension sometime soon?
Vic Carucci: I don't. I think he's locked into the idea of getting a Josh Norman-like deal, and the Bills aren't going to give him that. The Bills are compensating him fairly for this season, anticipating the scenario of him potentially playing into the final year of his rookie contract. They will see where they stand cap-wise at midseason, and perhaps they could resume what to date have been stalled talks. As far as the impact on Taylor, I think the Bills view it as a separate situation and, depending on how/if it works out with Taylor, there would likely be other contracts adjusted/restructured to accommodate whatever its resolved with the QB, if it's resolved.
Zach Links: Do you think the Bills made the right pick when they selected Shaq Lawson No. 19 overall? Does his shoulder issue concern you at all in the long run?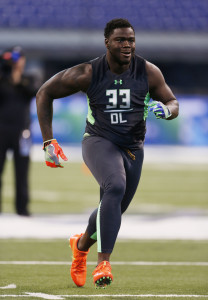 [RELATED – Impact Rookies: Buffalo Bills]
Vic Carucci: I liked the pick. The health risk was always on the table, and by having the surgery done in the offseason, it at least creates the possibility of having Lawson available for half the season. Although his absence could adversely impact the hopes of Rex Ryan of an immediately dramatic turnaround for his defense, I think you need to take a longer-term view with Lawson. When healthy, he should be a difference-making pass-rusher for many seasons.
Click here to continue reading about the Bills..
Zach Links: Safety Aaron Williams wants Fred Jackson back in Buffalo. Do you see that happening?
Vic Carucci: I have a hard time seeing that happen. Aaron and Fred are extremely close friends, so his stance is hardly a surprise. But I don't think it's realistic, given Fred's age, to think he can make a meaningful enough contribution to occupy a roster spot as a reserve back. I still think Reggie Bush, who is also an older player, is better alternative because of what he can provide in space. He isn't anywhere near the collision-style runner that Jackson is.
Zach Links: There has been a lot of talk about Rex Ryan's job security this offseason. What does Rex have to do to keep his job? If this is his last year in Buffalo, will you and the rest of the Bills beat writers be upset to see the league's most quotable coach go?
Vic Carucci: I certainly will, and I've written about that. He is a blast to cover. Very selfishly, I want him to remain place for as long as possible. Now, that might not be realistic at a time when owners have little patience. Kim Pegula, during an interview on the Bills' flagship radio station Friday, gave a pretty direct answer for her expectations for the season: "Win. Winning. … we're expecting wins."
Zach Links: In June, Rex said that he "expects to win big-time" this season. How do you see this year playing out for the Bills?
Vic Carucci: It's a bit early for me to get into predicting a record. I'd feel at least a little better about giving one after training camp and the preseason, but my way too early read is that this can be a 9-7 team, with a decent chance of getting to 10-6. I was highly impressed with what Taylor showed during the offseason, but the offense wasn't the problem last year. The problem was the defense, and it's hard to imagine it won't be better. How much better is the question.
Photos courtesy of USA Today Sports Images.
Follow @PFRumors