The old adage that defense wins championships may or may not be true, but you'll be hard-pressed to find a title-winning team that didn't build heavily through the draft. Rookie classes, naturally, are evaluated on the perceived upside of the NFL newcomers, but which rookies are ready to contribute right out of the gate? And, how do they fit in with their new team schematically?
To help us forecast the immediate future of these NFL neophytes, we enlisted the help of draft guru Dave-Te Thomas who has served as a scouting personnel consultant to NFL teams for multiple decades.
Today, we continue PFR's Impact Rookie series with his insight on the Buffalo Bills' draft class:
There is a strange silence coming out of Bills camp – head coach Rex Ryan has yet to boast about his team's Super Bowl prospects. The coach who thrives on positive thinking is spending the wee hours of the day huddled with his twin brother, Rob, hoping they can come up for a formula to improve their suspect run defense. Until they get that front wall operating on all cylinders, they can not even consider a postseason run with a unit that ranked 17th in the league in stopping the run (108.1 ypg), but allowed an average of 4.4 yards per carry. Only seven other teams allowed opponents a higher mark.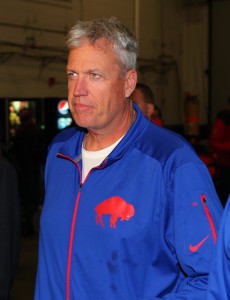 Additionally, their Rolls Royce-priced defensive line could not manage to get to the quarterback, as the only team to register fewer sacks that the Bills (21) were the Falcons (19). At least the Ryans shed the locker room of a high priced veteran who almost wrecked their salary cap in Mario Williams. The NFL's version of the NBA's Dwight Howard (I think I'm much better than anybody, so why go and prove it?) was dispatched to Miami, cutting a budget albatross that went to the bank to the tune of $19.4MM last year. He rewarded them with nineteen tackles and five sacks in fifteen starting assignments.
Williams was not the only front wall defender that should have felt somewhat feel embarrassed cashing a paycheck last year. Nose tackle Marcell Dareus recorded 51 tackles and got to the quarterback twice, earning an average of $16.1MM/year with $60MM guaranteed on a deal that runs through 2022. His projected running mate inside, Kyle Williams, garnered a $7.4MM dollar check for 14 tackles and one sack. The aging and injured veteran has a $4.5MM guarantee in the bank, but looms as a roster casualty in camp, especially with rookie Adolphus Washington showing the coaches more than enough to be listed with the first team on the depth chart entering training camp.
While Jerry Hughes tied Mario Williams for the team lead with five sacks in addition to making 52 tackles, it came with a price tag average of nine million with $22MM guaranteed through the 2020 season. Behind him, linebacker Manny Lawson secured three million from the Bills and found just one quarterback in the backfield last year. All told, the team saw eight defensive tackles take home ~16.33% of their cap in 2015. Only Jacksonville ($24,389,776; 16.34% of cap) doled out more money to their interior defenders in the NFL last year.
Their paltry pass rush only cost the team 6.97% of their cap to pay off their defensive ends (21st in the NFL) and their outside linebackers received just 3.18% of the team's cap funds (31st in the league). You get what you pay for, my grandmother always told me. To rectify that problem, it looks like the Bills went for a long-term solution, but at a possible cost at receiving immediate dividends from their top draft choice in 2016.
Continue reading about the Bills' rookie class..
First Round- Shaq Lawson, DE/OLB (Clemson, No. 19 overall)
Labeled a Top Ten player during the 2015 season, Lawson saw some of his luster disappear once he arrived in Indianapolis for the NFL Scouting Combine. He was injured late in the year and then hurt his knee during Clemson's postseason run, but he wound up being flagged for his suspect shoulder. Every team gets an opportunity to evaluate players with their own medical staff. Despite less than encouraging reports when Lawson was re-examined back in Indianapolis prior to the draft, when Lawson slid to the Bills at No. 19, Ryan and staff did not hesitate to get their card into the commissioner's hands.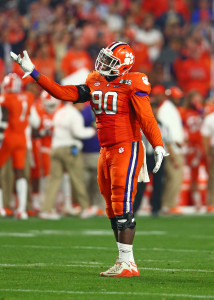 By May, the Bills took the high road in addressing Lawson's condition to the media, defending their reasons to draft a guy with a bum wing. They revealed that this was not an injury that just happened, explaining that Lawson played three seasons at Clemson with the issue. They recognized that he is a serious PUP candidate, which would put him on the sidelines for at least the early part of the season.
By having the first rounder undergo surgery now, they wanted to eliminate any chance for the injury becoming a much bigger problem down the road and turning into a long-term issue. Surgery was determined to be the only solution after Lawson reportedly tweaked the shoulder during a voluntary practice while making a swim move on a tackling dummy, leading to him going under the knife in May.
Rex Ryan had to have insider information on the extent of the injury before drafting Lawson, as he had a pipeline to the Clemson locker room, where his son is a member of the football team. The player who immediately benefits from Lawson's extended summer vacation will be Jets castoff IK Enemkpali, who is otherwise penciled in for a reserve role. As the Jets Geno Smith will vouch for, we all know that the new Bills starting end can pack a punch, but Lawson's injury could also benefit another veteran looking for one last chance to grab the brass ring.
Lawson will still have an effect on this year's roster, but it might not occur until after the season, when the Bills determine if the money they dished out to receive marginal results in 2015 will lead to cutting those same culprits if they fail to right the ship under the Ryan Twins in 2016.
When healthy, Lawson has been a terror – whether in a relief role or during his lone year as a starter. Through his first two seasons, he recorded 79 tackles (47 solos), an impressive figure for relief duties. However, he delivered 23 of those tackles for losses and brought down eleven other opponents for no gains on running plays. He also registered twenty-one third-down stops from 2013- 14 and recorded five touchdown-saving tackles. Opposing runners were limited to minus 40 yards on 56 running plays directed at the defender. Only four of 32 passes targeted into his area were completed (12.5%), as nine of his twenty quarterback pressures came on third down snaps during his freshman and sophomore campaigns, with three of those hurries causing interceptions, two causing fumbles and another leading to a sack.
Replacing an All-American like Vic Beasley was a tall task for any young player and while Beasley is well remembered by Tigers fans, Lawson helped them move on quickly with his remarkable success attacking the pocket during his junior season. Throughout the 2015 regular season schedule, he was dominant. The first-time full-time starter was leading the nation with 23.5 stops behind the line of scrimmage, the eighth-best season total in school annals.
Along the way, Lawson recorded 10.5 sacks, which is tied for sixth on the Tigers annual record list. He produced a career-best 79 tackles (59 solos) and has limited ball carriers to minus 80 yards on 53 running plays directed at him. In addition to his impressive tackle-for- loss figures, he stopped ball carriers at the line of scrimmage for no gain on twelve other rushing attempts, including four times vs. the powerful Florida State running corps. The national championship game vs. Alabama was spent more on the sidelines, as his postseason play was curtailed by a knee sprain.
Second Round – Reggie Ragland, LB (Alabama, No. 41 overall)
Somewhere in heaven, Buddy Ryan is smiling down on the Bills complex, singing out "attaboy" to his kids, as the Bills might have a linebacker in the version of what Buddy had during his Chicago days. No, I'm not putting Ragland in the Mike Singletary category – at least not yet. If you look back at Rex's history with linebackers like David Harris, Bart Scott, and his frenzied crowd of 'backers from the Ravens days, you'll find that having a smart, instinctive player in the middle of the second level has become a Ryan family Staple.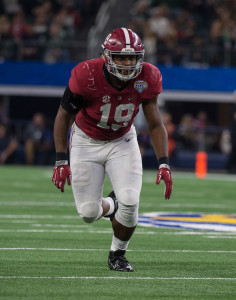 It is already being mentioned that Ragland will be the guy calling defensive signals this year. The plan is to have the Tide standout join Preston Brown to give the Bills a formidable 1-2 inside punch that can tip the scales well past the 250-pound mark, each. Ragland led the Tide in tackles seven times during his lone season in the middle last year. He paced the team with 102 tackles and was a near unanimous All-American selection.
If Jarran Reed was the "backbone" of the Crimson Tide's front wall, Ragland would have to be considered the defense's heartbeat, as he seemed to elevate the play of all around him in 2015. The consensus All-American and Southeastern Conference Defensive Player of the Year led the team to the national championship, pacing the squad with 102 tackles in 2015. He was a typical "old school" middle linebacker, directing traffic from the center of the field and roaming from sideline-to-sideline.
While some might be concerned that Ragland made only 6.5 tackles-for-loss last year and has generated only five sacks through 53 games, his basic assignment was to conduct traffic, plug inside rush lanes and handle second level pass coverage assignments. As for penetrating the back-field, opponents were more likely to be stopped by the linebacker's sudden force. Even though his tackle-for-loss total as a senior (just 17.5 for his career), he took down fifteen ball carriers at the line of scrimmage for no gain last year.
Additionally, he limited opposing running attacks to an average of 1.12 yards per carry vs. him last season, his first year manning the middle slot. Ragland took over weak-side outside linebacker duties after C.J. Mosley left for the NFL in 2014 and proceeded to deliver 95 tackles through thirteen starts, posting 10.5 stops behind the line of scrimmage. He had previously spent his first two seasons with the reserves, compiling 25 tackles through his first 24 contests.
Ragland's arrival could not come at a better time for the Bills. They thought they had found their weak-side starter when 2012 fourth-round pick, Nigel Bradham emerged to produce 104 tackles and 2.5 sacks in 2014. In his contract year, Bradham, like the rest of the team's front seven, saw his numbers drop sharply – 59 tackles and one sack. Soon after the veteran free agency period opened, Bradham was sporting a two-year contract to become a member of the Philadelphia Eagles. After seeing his replacement excel in mini-camp with Ragland surprising even the Ryans with how quickly he picked up the complex blitz packages, you can imagine the coaches whispering as Bradham left, "nice to know you – don't let the door hit you on the way out."
Third Round – Adolphus Washington, DT (Ohio State, No. 80 overall)
Actually, the Bills third round pick could see another veteran join Bradham on getting the "bring out your dead" treatment. Already listed as the team's right defensive tackle, Washington was well on his way to first round status with his first half performance in 2015. After eight games, unfortunately, Washington saw bottom drop out on his season.
Through his first seven 2015 appearances, Washington scored on an interception, blocked a kick, averaged seven tackles per game, made twelve touchdown-saving stops on goal-line stands, recorded three sacks with six more stops behind the line of scrimmage and fourteen quarterback pressures. During his last five contests, he averaged three tackles per game and a total of one sack. On 45 running plays through the first half, opponents were held to minus 30 yards vs. the nose tackle. In his final five games, they gained 88 yards on 18 tries.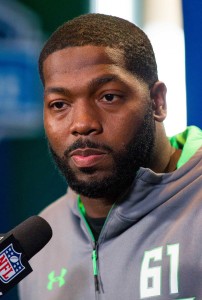 Compounding his "fall from grace" was his arrest for soliciting a prostitute, which led head coach Urban Meyer to suspend him from the bowl season. Washington concluded his career on a sour note, but was able to gain back favor from NFL by dominating at the Senior Bowl, Scouting Combine, and Ohio State's Pro Day. Still, he would like to forget that second part of 2015, as third round money is petty cash compared to what he would have pulled in as a first round consideration.
With Washington on board, you have to wonder if Kyle Williams' days in Buffalo are coming to an end. If he is still dealing with injury issues, the team could have serious depth problems at the interior defensive line spots. With Washington and Dareus as the starters, only Corbin Bryant is a capable reserve, if Williams is not ready for action. The rest of the motley crew of camp players includes Leger Souzable, a San Francisco castoff, T.J. Barnes, who was in camp when Rex was with the Jets and Jerrel Worthy.
Worthy seems to have fallen into the Henny Youngman mode (take my defensive lineman, please). Ever since the Packers actually traded up to take him in the second round of the 2012 draft, he has been found wanting in Green Bay, cut from the Patriots practice squad after the Pack had seen enough of him a year later, only to be signed by Kansas City to their practice unit. Let go by the Chiefs, he was a member of Detroit's practice squad in 2014, but they did not shed a tear when he took an offer to be in the Bills camp this summer.
Washington might be the most crucial rookie pick-up for Buffalo, as they need to rectify their issues up front. Dawson might not be ready to go until the earliest, at midseason, if even then. Ragland will handle signal-calling duties, but the Ohio State rookie needs to play like a veteran, or Rex and brother might have a defense similar to 2015.
If his scouting report holds true, Washington's wide hips and thick lower body, it is very tough for blockers to gain movement off the snap vs. him, making him a virtual immovable object at the three-technique assignment. He shows excellent balance, quickness (4.87 40-yard dash) and burst off the snap. He plays with good urgency and has the long reach and hand placement to easily sidestep low blocks. He changes direction smoothly and closes in a hurry when working his way down the line. He has the leaping ability and reach to deflect passes at the line of scrimmage and when he keeps his pads down, he can generate a very quick push off the snap to penetrate and shoot the gaps.
For a player of his size, he demonstrates very loose hips, which allow him to slip off blocks and redirect without needing to gather. He has those quick short steps that lets him gain advantage on a lethargic blocker and shows nice flexibility and acceleration in long pursuit. Few three-tech players have his outstanding quickness and agility, as he shows excellent body flexibility when changing direction.
On the field, Washington shows keen awareness to the play developing. He is more of a run containment type, but has the savvy and agility to slip blocks and wreak havoc in the backfield, evident by causing four interceptions chasing quarterbacks out of the pocket last season (see Penn State, Minnesota and Alabama games). He has also excelled in the classroom, earning OSU scholar-athlete recognition. He is quick to find the football in pursuit and is not the type that will bite on play action or misdirection.
Dave-Te Thomas owns and operates The NFL Draft Report, a service providing insight to league scouting departments for over 40 years. All year round, you can read Thomas' in-depth reviews of both blue chip prospects and diamonds in the rough by visiting the NFL Draft Report blog.
Photos courtesy of USA Today Sports Images.
Follow @PFRumors