Earlier this offseason, many around football expected Eric Berry's negotiations to go smoothly due to his importance to the Chiefs both on and off the field. However, the Chiefs' impasse with their star safety doesn't look to be set for a resolution by Friday's deadline. However, absent what NFL.com's Rand Getlin describes (on Twitter) as a "significant shift" in stances from the two sides, the Chiefs and Berry ar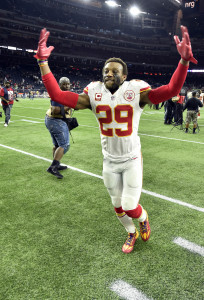 en't likely to reach an agreement on a long-term contract by Friday's 3 p.m. deadline.
Jason La Canfora of CBSSports.com echoes Getlin's report (Twitter link), saying that Berry could well be set to play this season on the franchise tag. Under the terms of the $10.86MM non-exclusive tag, Berry would make more than any other safety in 2016, but he'd be without the security most of his fellow top-tier safeties have been afforded.
The NFL's reigning comeback player of the year has his eyes set on being the league's highest-paid safety — a mantle currently held by recently extended Vikings back-line defender Harrison Smith and his five-year, $51.25MM contract. It's understandable the 27-year-old Berry would view himself in this light. Entering his seventh season, his two first-team All-Pro honors are two more than the fifth-year Viking, who is also 27, and his four Pro Bowl invites quadruple Smith's Hawaii nods.
Harris and Earl Thomas are the only $10MM-per-year safeties right now, but both players received their raises much earlier in their careers before Berry has. Both signed their long-term deals with their respective teams going into their fifth seasons. One of the three 2010 first-rounders to play out his six-year rookie contract under the old CBA, Berry entered the league before both as the No. 5 overall pick that year.
Last we heard, Berry stood surprised negotiations between he and his only NFL employer to date were moving as slowly as they have. Still, John Dorsey was previously on recording saying these talks would be a slow process.
The Chiefs also reside as one of the more cap-strapped teams in the league. While a backloaded Berry pact would create some space for the team this year (they currently have a league-low $1.169MM in cap room), it would continue to saturate Kansas City's 2017 projected cap sheet. Without Berry or Dontari Poe on the books for '17, the Chiefs are projected have ~$4MM in cap space with little wiggle room due to the bevy of guaranteed contracts on their payroll next year.
Dorsey, though, headlined a negotiation with 2015 franchise player Justin Houston — one that did not end until the July 15 deadline — when the pass-rusher became the league's highest-paid linebacker. So, a precedent exists here, and the sides' lack of public acrimony should help this effort as the deadline nears.
Once Berry resumed his full-time duties at free safety last season following his heroic recovery from cancer, the Chiefs' defense became one of the league's best. The unit finished seventh in total defense, and Pro Football Focus ranked Berry sixth out of 88 qualified full-time safeties.
Photo courtesy of USA Today Sports Images.
Follow @PFRumors