SATURDAY, 8:35am: Paylor has some quotes from Berry, who elaborated on the slow negotations.
"I thought it would progress a little bit more," he said. "But it's still been pretty much the same since the last time we talked. A lot can change in a week. A lot can change for whenever the deadline is."
Of course, the safety also noted that he intends and hopes to stay in Kansas City longterm.
"Obviously I'd love to be a Chief — I want to be a Chief long term, just because of the community, the staff, from top to bottom, the players and everything," he added. "But sometimes things don't go as planned, and I'm prepared for that, but hopefully it goes as planned, and I'm prepared for that, as well."
FRIDAY, 8:28pm: The Chiefs have until next Friday to reach a long-term deal with franchise player Eric Berry, but the star safety tells Terez A. Paylor of the Kansas City Star (Twitter links) that he's surprised at the slow pace of negotiations. However, Berry did reaffirm his desire to hammer out an extension with the club, adding a tone of optimism to the talks.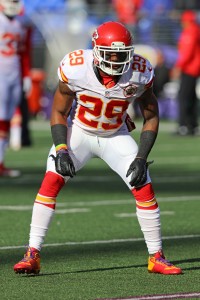 Berry, 27, has always been thought to be among the franchise-tagged players with the highest chance of inking a new contract with his club, especially given his superb relationship with Chiefs management. But given that Berry likely has his sights set on becoming the highest-paid safety in the league — and topping the five-year, $51.25MM extension signed by Vikings safety Harrison Smith — it's not entirely surprising that no deal has yet been finalized. Additionally, it's worth noting that even back in May, Kansas City general manager John Dorsey said he expected negotiations with Berry to be a "slow process."
Berry, who earned Pro Bowl nods in three of his first four NFL seasons, was diagnosed with Hodgkin lymphoma in 2014, raising some doubts about his future in the league. However, the veteran safety was declared cancer-free in 2015 and enjoyed one of his best seasons this past year for the Chiefs.Appearing in all 16 games for Kansas City in 2015, Berry logged 61 tackles to go along with a pair of interceptions and 10 passes defended. Pro Football Focus ranked the Tennessee product sixth among 88 qualified safeties, and the standout season earned Berry his fourth Pro Bowl berth, along with a spot on the NFL's All-Pro first team.
The Chiefs aren't the only club to hit a speed bump in talks with their franchise-tagged player this week. The Broncos and Von Miller are locked in a tight dispute over contract structure and guaranteed money, while the Redskins and Kirk Cousins are at an impasse, meaning the quarterback will play the 2016 season under the franchise tender. Meanwhile, the Bears and Alshon Jeffery appear unlikely to reach a new pact, and the same can be said in New York, where the Jets aren't close to a deal with Muhammad Wilkerson.
Photo courtesy of USA Today Sports Images.
Follow @PFRumors