With only eight days remaining before the July 15 deadline for franchise-tagged players to sign long-term deals with their respective clubs, defensive lineman Muhammad Wilkerson doesn't appear to be any closer to hammering out an extension with the Jets. The two sides are not even currently negotiating, and there is "nothing" happening in talks, a source tells Dom Cosentino of NJ.com.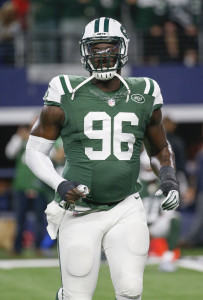 [RELATED: Sheldon Richardson suspended one game]
Last month, Wilkerson voiced his displeasure at his contract dispute, indicating that the Jets haven't expressed an interest in retaining him beyond 2016. "It's shocking. It's frustrating," Wilkerson told Brian Costello of The New York Post. "Because I feel like I've earned it and I deserve it. It would be different if I was just a mediocre player. I feel like each and every week I'm dominating and it's showing. The stats speak for themselves. Basically, what more do I need to do? You know what I mean?
"Do I feel that they want me back? As of right now, no. I don't feel like they want me," the 26-year-old said. "I'm a talented guy. Everybody knows that. I feel like they're going to get the best they can out of me and just let me go. That's how I feel. Do I like that feeling? No. I'm a New Jersey guy, born and raised and would love to raise my family here."
According to Costello's reports, Wilkerson is looking to match — or top — the six-year, $103MM extension inked by defensive tackle Fletcher Cox in June, but New York, which has an excellent crop of defensive lineman including Sheldon Richardson, Leonard Williams, and free agent addition Steve McLendon, has shown little interest in meeting that demand. The Jets have reportedly shopped Wilkerson, but have yet to find a suitable trade partner.
Wilkerson isn't expected to sign his franchise tender, which would pay him a guaranteed $15.701MM, any time soon, and could skip part or all of training camp, as Rich Cimini of ESPN.com recently reported. Typically, players who don't attend camp are subject to fines, but since Wilkerson technically isn't under contract until he accepts his franchise tag, he wouldn't be at risk of losing any money.
Photo courtesy of USA Today Sports Images.
Follow @PFRumors