While the NBA's Cavaliers have brought a title back to Cleveland, the city's true love remains the Browns, a club which is seemingly stuck in a cycle of perpetual reassembly. After once again overhauling their front office and coaching staff, the team finally seems to have to be moving in the right direction, formulating a plan both for free agency and the draft (and sticking to it). The 2016 Browns offseason may not have been flashy, but the organization accomplished a number of goals and — more importantly — accrued assets, all with an eye towards the future.
Notable signings:
The Browns entered the free agent period armed with nearly $50MM in cap space, but given that they're in the midst of a full rebuild, they didn't figure to spend much of it. And they didn't, as the club still has roughly $42MM in 2016 cap room. But while Cleveland wasn't very active over the past several months,the team did manage to ink a few interesting free agents, and former Redskins quarterback Robert Griffin III is atop that list.
Griffin isn't the only signal-caller on the Browns' roster, as Josh McCown, Austin Davis, and third-round rookie Cody Kessler are also under the team's employ. Cleveland reportedly did not promise Griffin the starting job, but all expectations are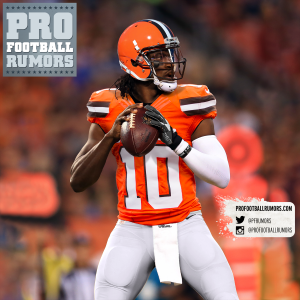 that he will be under center come Week 1. Head coach Hue Jackson likely won't officially name a starter until the preseason begins, but with rumors swirling that McCown could be traded (or released), Griffin is the overwhelming favorite to handle snaps for the Browns.
And for a team in transition, Griffin makes a ton of sense as a high-upside play. There's no question that Griffin, who is still only 26 years old, never built upon the highs of his 2012 campaign, when he was named the league's Offensive Rookie of the Year. But despite reports of infighting and constant media attention on his situation in Washington, Griffin handled his time in the nation's capital relatively well, especially during the past two years when he was benched in favor of Kirk Cousins. Signed to what is effectively a one-year deal with an option for 2017, both Griffin and the Browns have quite a bit to gain from this working relationship.
Cleveland's only other significant addition on the offensive side of the ball was former Seahawks offensive lineman Alvin Bailey, whom the club lured with a three-year agreement. Bailey never made a true impact during his time with Seattle, although he does have youth on his side, as he won't turn 25 until next month. However, it's telling that Bailey could never find his way into the Seahawks' starting lineup on a consistent basis given how poor Seattle's offensive line has been in recent years (he only played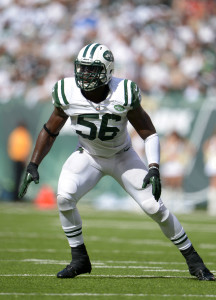 about a quarter of the team's offensive snaps in 2015). He figures to compete with rookie Shon Coleman for time at right tackle, the only open spot on the Browns' offensive line.
On defense, the Browns managed to land linebacker Demario Davis, who had spent the entirety of his career with the Jets. Davis, who started all 48 games during the past three seasons with New York, will take over at inside linebacker for Karlos Dansby, who was released. The decision to go forward with Davis over Dansby must have come down to age alone — Davis is 27, Dansby is 34 — as Dansby is clearly the superior player and would have actually been a little bit cheaper in 2016. Dansby is regarded as a solid locker room presence, and given that neither linebacker will be in his prime the next time Cleveland is in contention, it was surprising to see the club make the swap.
In the secondary, veteran Rahim Moore will fill the void at safety left when Tashaun Gipson departed for Jacksonville in free agency. As Roster Resource shows, Moore isn't locked into a starting job, as he'll have to compete with Jordan Poyer — who played roughly 40% of Cleveland's defensive snaps last year — for time at free safety. Although Moore bombed with the Texans after inking a three-year pact (he was benched by November), he was a full-time starter for the Broncos from 2012-2014, so he isn't lacking in experience.
The Browns also invested resources in two linebackers, Tank Carder and Justin Tuggle, who are primarily special teams players. Carder, for his part, played on more than 80% of Cleveland's special teams snaps in 2015, and was rewarded for his efforts with a $300K guarantee. The Browns ranked in the middle of the pack in special teams DVOA last year, so perhaps that's an area of the game where they feel they can show marked improvement on the cheap.
Clearly, the Browns didn't see much use in using their ample cap space during this free agent period. Rather, the club will continue to carry that cap room over to future seasons, allowing them to spend more freely when they enter a period of contention. It's a solid strategy, and one that will only help Cleveland in the long run, as there's little reason for the team to sign a few more veterans in order to improve from, say, three wins to five wins in 2016.
Continue reading about the Browns' offseason…
Notable losses:
Travis Benjamin, WR
Dwayne Bowe, WR: Released
Karlos Dansby, LB: Released
Ifo Ekpre-Olomu, CB: Waived
Brian Hartline, WR: Released
Johnny Manziel, QB: Waived
Craig Robertson, LB
Connor Shaw, QB: Waived
Scott Solomon, LB: Waived after being re-signed
Randy Starks, DT: Released
The Browns saw a mass wave of defections during the free agent period, and while that was probably by design, it's likely still hard for Cleveland fans to stomach the losses of some of the most talented players on the roster. Some agents voiced a concern that the Browns front office was acting in a hesitant manner during negotiations, and that tenor of talks may have led to a few desertions. As Adam Schefter of ESPN said earlier this year: "Players treat the Browns like it's a college experience — four years and done." 
While the Browns' declination to engage with some of their internal free agents made sense based on price or the age of the player, the loss of tackle Mitchell Schwartz was perhaps the most difficult to rationalize. Schwartz is a former-second round pick who was drafted and developed by the Browns, and not only started all 64 possible games during his tenure with the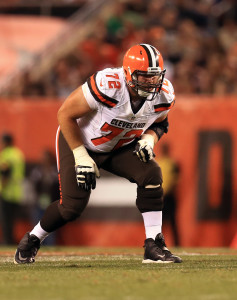 club, but grew into one of the best tackles in the league, ultimately grading out as the sixth-best at his position in 2016, per Pro Football Focus.
The 27-year-old Schwartz drew a decent amount of interest from other teams on the first day of free agency, but after Cleveland reportedly pulled its offer, Schwartz landed with the Chiefs on an entirely reasonable deal. His five-year pact is worth $33MM in total, but only $12.66MM is fully guaranteed. It's a solid pact, and of the top right tackle contracts in the league, but given Schwartz's relative youth, excellent play, and history with the organization, his loss struck me as the most surprising among the Browns' divorces.
Elsewhere on the offensive line, center Alex Mack finally left the Browns after attempting to do two years ago. For those who might not recall, Mack signed an offer sheet with the Jaguars after
being designated as Cleveland's transition player in 2014 — the Browns matched Jacksonville's offer, which included an opt-out clause that triggered after the 2015 campaign. Mack utilized that option this offseason, and landed a deal with the Falcons that made him the highest-paid center in the league. Given the presence of 2015 first-rounder Cameron Erving, Mack likely wasn't a priority for Cleveland's front office.
Wide receiver Travis Benjamin is also gone after posting the type of breakout season that many had been expecting for some time. As Matt Harmon explained in his excellent Reception Perception profile, Benjamin unsurprisingly ran a large percentage of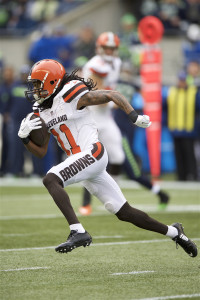 vertical routes (thanks to his speed), but he was also successful when deployed in other fashions. After grabbing 68 passes and nearly crossing the 1,000 yard barrier, Benjamin signed a four-year, $24MM pact with the Chargers.
Benjamin isn't the only wideout who won't be back with the Browns in 2016, as both Dwayne Bowe and Brian Hartline were handed walking papers in the past few months. Bowe, specifically, turned out to be one of the worst free agent signings in recent memory, managing just five receptions while earning $9.75MM for one season. Entering his age-32 season, Bowe has had a nice career, including a memorable 15-touchdown season with the Chiefs in 2010, but he's nearing the end of the line. Hartline, meanwhile, can still function as a second or third receiving option, but choosing to save $3MM by releasing him was a no-brainer move by Cleveland.
On defense, safety Tashaun Gipson might not be a household name, but he's been a worthwhile contributor for a number of seasons. Gipson was reportedly unhappy with the restricted free agent tender Cleveland assigned for the 2015 season, and had been prepared to leave the Browns for some time. The one-time Pro Bowler received $12MM in guarantees as a part of the five-year contract he signed with the Jaguars. Like Schwartz, Gipson was another free agent whom I thought Cleveland might try to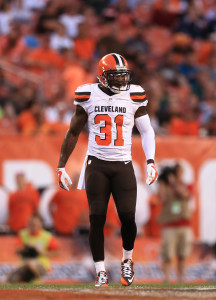 retain given his age (25), and I even wondered if the franchise tag might be an option. Executive VP of football operations Sashi Brown admitted the tag would be a possibility for Gipson, but the Browns de facto general manager had hoped to hammer out a long-term deal with his free agent safety.
Cleveland's other starting safety, veteran Donte Whitner, is also out of the 2016 picture after being cut in April. Whitner was miffed about the timing of his release, and he should've been. Instead of being let go prior to the free agent period, Whitner was set loose on the open market three weeks after many clubs had spent their allotted cap space. At 31 years old, he was never going to land a massive deal, but Whitner is still a productive player, and he could have scored a multi-year pact with some guarantees instead of the one-year deal that he'll now likely have to accept.
We've already touched on Cleveland's release of Karlos Dansby above, but fellow linebacker Craig Robertson also left the club, agreeing to a contract with the Saints after hitting free agency. Robertson has never been particularly adept against the run, but he's always shined in pass coverage — in 2015, for example, PFF ranked him as the league's 14th-best 'backer in the pass game. That's a valuable asset in today's NFL, but a linebacker who can't stay on the field for all three downs probably isn't much of a value.
A few other veterans won't be back in Cleveland next year, including safety/special teams ace Johnson Bademosi, who became one of the league's highest paid special teams players after signing a deal with Detroit that guarantees him $2.9MM fully guaranteed. Jim Dray was released after grading out as one of the worst tight ends in the NFL last season, while defensive lineman Randy Starks was cut in a cost-saving move.
Of course, we'd be remiss if we didn't note that the Browns also waived former first-round pick Johnny Manziel after numerous off-the-field issues. There isn't much to add to the Manziel saga that hasn't already been written, as he continues to make headlines with his bizarre and seemingly unhinged behavior. He's earned a four-game suspension for the 2016 season, but that won't matter much to the Browns — aside from the possibility that the club might be able to recoup some previously guaranteed money — as they'd already given up on Manziel after only two unproductive, incident-filled seasons.
Trades:
And now, we come to the most successful part of the Browns' offseason. Cleveland made hay through their trades, swinging deals both before and during the draft that allowed them accrue assets in 2016, 2017, and 2018 drafts. Through this series of moves, the Browns demonstrated that they might be using a different value chart than most of the league, perhaps something closer to Chase Stuart of Football Perspective's model than the traditional, Jimmy Johnson-created table.
The trade to hand over the No. 2 overall pick to the Eagles was Cleveland's most successful deal, as they acquired roughly 175 cents on the dollar, obtaining a smorgasbord of draft choices that will be of great benefit to the club as it continues its rebuild over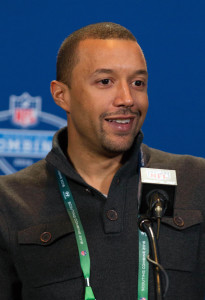 the next few seasons. But the move from No. 8 to No. 15 was nearly as valuable, as the Browns received about 148 cents on the dollar from the Titans as the latter moved up to select offensive tackle Jack Conklin. Even in a more fair deal — their pick swap with the Panthers — the Browns came out ahead, getting about 114 cents on the dollar.
Aside from simply winning a number of trades (which is always a positive), the Browns showed that they've been reading some of the research available regarding the NFL draft. In a paper published in 2012, economists Cade Massey and Richard Thaler explained that NFL organizations simply aren't that proficient at making correct decisions in the draft, so trading down and amassing more picks is the smarter strategy — in other words, clubs need to give themselves more bites at the apple. Additionally, the pair discovered that choices at the top of the draft are dramatically overvalued; mid-round picks are far more likely to provide surplus value.
And that's essentially what the draft is all about — asset management. Call it "analytics," call it "Moneyball," call it whatever you like. But a front office that isn't trying to squeeze out every remaining bit of value from an asset isn't doing its job. The Browns made the most of the hand they were dealt this offseason, and despite the organization's history of ineptitude, they are now firmly on the right track.
Draft picks:
1-15: Corey Coleman, WR (Baylor)
2-32: Emmanuel Ogbah, DE/OLB (Oklahoma State)
3-65: Carl Nassib, DE (Penn State)
3-76: Shon Coleman, T (Auburn)
3-93: Cody Kessler, QB (USC)
4-99: Joe Schobert, LB (Wisconsin)
4-114: Ricardo Louis, WR (Auburn)
4-129: Derrick Kindred, S (TCU)
4-138: Seth DeValve, WR/TE (Princeton)
5-154: Jordan Payton, WR (UCLA)
5-168: Spencer Drango, OL (Baylor)
5-172: Rashard Higgins, WR (Colorado State)
5-173: Trey Caldwell, CB (Louisiana-Monroe)
7-250: Scooby Wright, LB (Arizona)
The Browns acquired a bundle of future draft choices, but they also accrued a multitude of 2016 picks — 14, to be exact, three more than any other club. The strategy to obtain a horde of picks won't matter much, however, if the majority of Cleveland's selections don't pan out. But the club did seem to employ the practice of positional-based drafting. Of the Browns' 14 picks, 10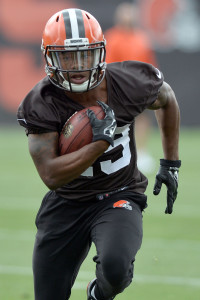 play the "high-value" positions — quarterback, offensive tackle, wide receiver, edge rusher, and cornerback. (That total rises to 12-of-14 if Joe Schobert is counted as pass rusher and Spencer Drango is viewed as a tackle rather than a guard.)
Of Cleveland's 2016 class, Corey Coleman is the favorite to offer the most immediate contribution. The speedy pass-catcher might have some work to do in terms of learning a more complete route tree, but at the very least, he can act as a deep-ball weapon during his rookie season. Fellow receiver Rashard Higgins doesn't offer the measurables of Coleman, but he was well-reviewed by a number of draftniks, and is on pace to start opposite Coleman on the outside.
Offensive tackle Shon Coleman also has a chance to start as a rookie, as he'll be engaged in a training camp battle with Alvin Bailey, with the winner taking up the mantle at right tackle. Cody Kessler, a third-round pick like Coleman, has been bandied about as a potential 2016 starter, but that seems highly unlikely. Many observers were surprised that Kessler was chosen as high as he was, and he could probably use another year (or two) of seasoning.
On defense, Emmanuel Ogbah and Carl Nassib will have every opportunity to earn roles as situational pass-rushers early in the season. Ogbah, a collegiate defensive end, will make the transition to 3-4 outside linebacker, so he may need some reps in coverage before he's ready to become a full-time player. Nassib, meanwhile, is staying put at end, and word is that the Browns would like him to bulk up from his current 275 pounds so that he can slide inside on passing downs.
 Other:
The Browns (again) underwent a leadership change this offseason, replacing both the top executives in the front office and much of their coaching staff. The personnel team, now lead by executive VP of football operations Sashi Brown, chief strategy officer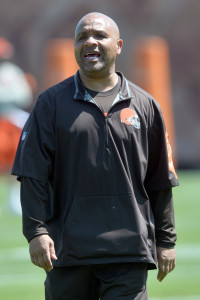 Paul DePodesta, and president of player personnel Andrew Berry, is light on NFL experience, but the group has already shown that they have an executable plan for their franchise. DePodesta, a former MLB general manager, got most of the offseason publicity, but he's essentially taking this year to learn about the finer points on the NFL game before diving into his role, per a number of reports.
New head coach Hue Jackson, meanwhile, does have a long NFL history, and always seemed likely to get another coaching gig after succeeding both as an offensive coordinator and during a short stint as Oakland's head coach. Considered one of the more innovative minds in the league, Jackson's long-term goal will be to lead the Browns back to respectability, but his more immediate objective is to resurrect the career of quarterback Robert Griffin III. Jackson will have help, as he brought a number of highly-regarded voices — both on offense and defense — with him to northern Ohio.
Barkevious Mingo, Cleveland's first-round pick in 2013, has never lived up to his draft billing, and by last season had essentially become an overpaid special teams player. He only played 256 defensive snaps, and didn't offer much in terms of pass rush (zero sacks). Mingo saw action on nearly 85% of the Browns' special teams plays, but that type of production doesn't equal the ~$12MM salary he would have earned had the club exercised his 2017 fifth-year option. Truth be told, there's no guarantee Mingo even makes this year's 53-man roster.
Top 10 cap hits for 2016:
The 2016 season isn't going to be pretty for the Browns, and it isn't meant to be. With three other clubs in their division lined up to contend for the AFC North crown, Cleveland has no real shot at reaching the postseason. But bottoming out and landing another top draft pick won't be the worst outcome. If all goes according to plan, this could be the last truly embarrassing Browns season for quite some time.
Information from Over the Cap, Spotrac, and Roster Resource was used in the creation of this post. Photos courtesy of USA Today Sports Images.
Follow @PFRumors