The contract stalemate between the Chargers and No. 3 overall pick Joey Bosa is centered around offset language and payout structure, and Kevin Acee of the San Diego Union-Tribune adds a few more specifics to the dispute, reporting that Bosa and his camp want the entirety of his ~$17MM signing bonus to be paid in 2016. San Diego, meanwhile, prefers to pay a "significant portion" of the bonus next March.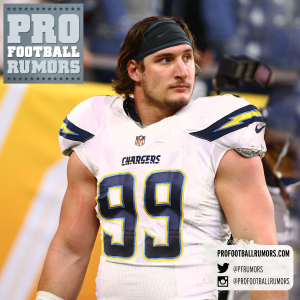 [RELATED: Impact Rookies — San Diego Chargers]
The Chargers' offer to Bosa is similar in nature to the deal signed between the Cowboys and fourth overall pick Ezekiel Elliott, according to Acee. Elliott will receive roughly 61% of his signing bonus during this calendar year, so using the same structure, San Diego wants to delay about $6.6MM of Bosa's signing bonus until next March. Bosa's agent Todd France, meanwhile, made clear last month that that structure is unacceptable.
The two sides still disagree on offset language, per Acee, as Bosa wants some sort of compensation — namely, his prefered bonus payout schedule — as a reward for agreeing to negate his fourth-year guarantee if he's released by the Chargers and signs with a new club. So while offsets aren't a key sticking point in talks, they are inextricably linked to the structure negotiations.
Bosa, who is now the only rookie who remains unsigned after Joshua Garnett reached a deal with the 49ers this morning, did not report to training camp yesterday, but general manager Tom Telesco indicated that the Chargers will stand by their contract approach in the name of precedent. Head coach Mike McCoy also told reporters today, including Eric D. Williams of ESPN.com, that Bosa "needs to be here" in order to get comfortable with the club's playbook.
Photo courtesy of Pro Football Rumors on Instagram.
Follow @PFRumors