Chargers first round pick Joey Bosa will not report with his teammates today as he remains unsigned, according to Steve Wyche of NFL.com (on Twitter). The timing of bonus payouts and offset language are believed to be the sticking points in negotiations.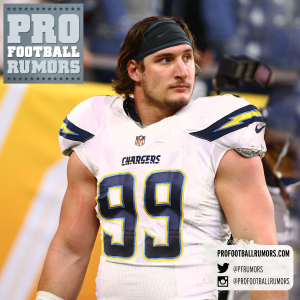 [RELATED: Jets, Rookie Darron Lee Agree To Deal]
While Bosa's battle with the Bolts over his rookie contract has been known for some time, few expected this dispute to drag into training camp. The No. 3 overall pick in this year's draft seems serious about getting what he wants in his rookie deal and he is out to prove his point as he stays home today.
Bosa is obviously a big part of the Chargers' plans for this season and his absence is undoubtedly frustrating for the team. Recently, in a PFR exclusive, scouting guru Dave-Te Thomas gave an in-depth look at Bosa and the rest of San Diego's rookie class:
"Bosa is scheduled to start at left defensive end, where the Chargers let former second round pick, Kendall Reyes, also leave the complex to join Weddle in Baltimore. After a promising rookie year that saw Reyes tally 5.5 sacks, nine stops for loss and nineteen QB pressures, Reyes failed to impress during his three years as a starter, making two sacks and 32 hits through fifteen assignments with the first unit last year.
While Bosa only sealed the deal with five sacks in 2015, he did record fourteen QB chase-downs, including eight on third-down snaps and two on fourth-down plays. While he was effective as a pass rusher in 2014, he really has yet to develop an array of pass rush moves, relying more on his length and raw power to beat blocks on his path to the quarterback. He is known more for that power, but as he matures, he needs to be more efficient with his swim- and rip-move techniques. In any event, he can be an impact player for the Chargers in 2016 – once he gets his contract sorted out."
Meanwhile, in San Francisco, guard Joshua Garnett stands as the only other remaining first-round holdout. Rapoport (on Twitter) hears that there probably won't be a holdout from the No. 28 overall pick and a deal should get done shortly.
Photo courtesy of PFR on Instagram.
Follow @PFRumors