The Jets still do not have their first-round pick under contract as they get ready for training camp, even though more than 90% of this year's first round selections have signed their deals. So, what's the holdup? It is believed that linebacker Darron Lee is pushing for the fourth year of his contract to be guaranteed, Rich Cimini of ESPN.com writes.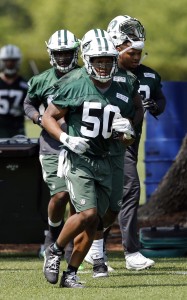 [RELATED – Impact Rookies: New York Jets]
Players chosen from No. 1 through No. 19 receive fully guaranteed salaries, per the terms of the collective bargaining agreement. Lee, who was taken No. 20 overall, falls outside of that range. However, Texans wide receiver Will Fuller was taken at No. 21 and received a fully guaranteed salary for his final year. Fuller and Lee are both represented by CAA's Todd France, so it only makes sense that Lee's camp is insistent on a guaranteed fourth-year salary.
So far, the Jets have only been willing to give Lee a partial guarantee. This year, the Redskins gave No. 22 pick Josh Doctson a partial guarantee of $1.2MM on his $1.8MM salary for year four. In 2015, the Eagles did roughly the same with No. 20 overall pick Nelson Agholor when they guaranteed him $1.1MM of his $1.7MM salary in the fourth year of his contract. Since the Jets are willing to give Lee a partial guarantee, the two sides are effectively haggling over $600K in guarantees. Ultimately, the deal will almost certainly get done, but not before some further wrestling between France and Gang Green.
Photo courtesy of USA Today Sports Images.
Follow @PFRumors