As the Broncos and Von Miller's camp headed into the final week of negotiations that eventually produced a record-breaking defensive contract, one of the linebacker's agents brought up a potential trade, Mike Klis of 9News reports.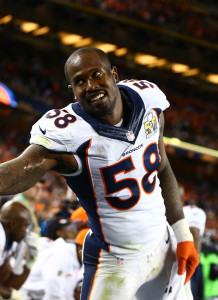 Joby Branion helped secure the six-year, $114.5MM pact — with $70MM guaranteed — for his client, but when talks weren't progressing to the agent's liking, Branion made a formal request to see if he could contact other teams about the prospect of trading for Miller. This came about last weekend after talks with the Broncos intensified.
John Elway submitted the proposal that ended up being the clincher over a two-day period on July 7-8, but Branion countered with an offer that would have included more guaranteed money, Klis reports. But Elway, as he's shown he'll do during negotiations in his five-plus years as the Broncos' GM, held firm on his offer. Branion then told the GM if he wasn't prepared to consider his counterproposal, then it was possibly within the team's best interests to consider trading Miller.
The Broncos did not entertain the notion of trading the reigning Super Bowl MVP, Troy Renck of the Denver Post reports, with the sixth-year GM viewing the 27-year-old pass-rusher as a cornerstone player.
Elway's closing pitch came to Miller much earlier in the process than it did last summer when the Broncos reached an extension agreement with Demaryius Thomas minutes before the deadline. That was partially due to a parallel negotiation not existing like it did when the Broncos were talking with Thomas in 2015 and waiting on the Cowboys to close on a deal with Dez Bryant. It also stemmed from the Broncos potentially drawing up trade plans just in case along with Elway having an out-of-the-country vacation trip booked.
It's unclear if any contingency trade plans were hatched out much, though.
The Broncos would have, of course, held the option of tagging Miller again if he sat out the season but could only use the non-exclusive tag on him if he followed through with that persistent threat. That scenario would have induced a team to exchange a first- and third-round pick for Miller in 2017.
Photo courtesy of USA Today Sports Images.
Follow @PFRumors