On Wednesday night, the Jets and Ryan Fitzpatrick finally ended their offseason saga when the two sides agreed to a one-year, $12MM deal. When the two sides shook hands, Jets fans weren't the only ones to breathe a sign of relief.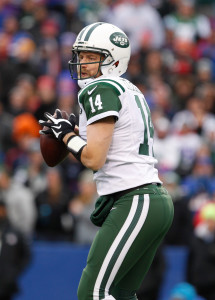 "Oh my gosh… it's been a long six months for sure," Fitzpatrick told Manish Mehta of the Daily News. "The biggest feeling was relief. Just relief to have it over and done with. And then when I was driving in (Wednesday night to the team facility) and walking up to the team meeting, it was like the first day of school. I was just all excited to see everybody and to be back in the building. Because through the entire offseason program, I wasn't allowed to be there. It was such a weird feeling. I was ten minutes away just sitting at home getting calls and texts every day. After every practice, talking with the guys and not being allowed in the building to participate and compete with them. That made it an awfully long offseason for me. Now I'm ready to get to work."
Here's a look at some of the reactions to Fitzpatrick's deal with Gang Green:
The Jets gave Fitzpatrick a 7pm ET deadline because their camp-opening meeting was at that time and they wanted his situation to be resolved by then, Albert Breer of The MMQB tweets.
Fitzpatrick, 34 in November, tells Mehta that his best is yet to come. "I'm getting better as a quarterback," Fitzpatrick said. "A lot of that is an understanding of the game, of myself, of who I'm playing against. So I think there's been a nice upward trend in my career of getting better as I get older…. This is the fifth year that I'm going into the year as a starter. So it's not like I've had a 12-year career where every year I've been the starter. There have been a lot of times when I've been the backup. So there's been a lot of growth in my career. I'm just excited for the opportunity this year, but I think I'm going to continue to get better."
The Jets made the right move by ending the madness and getting a deal done, Rich Cimini of ESPN.com opines. Both sides got what they needed, though Cimini would give a slight edge to Fitzpatrick for coming away with $12MM on a one-year deal and possibly up to $15MM via incentives. Re-signing Fitzpatrick didn't come cheap, but the Jets ultimately did not want to roll into the season with Geno Smith as their starter.
Brian Costello of the New York Post wonders what Fitzpatrick's deal means for Smith. Smith, at best, is now relegated to being the Jets' No. 2 QB. However, the Jets also have Bryce Petty and Christian Hackenberg under contract and it could theoretically be Smith that gets bumped from the roster.
The Jets and Fitzpatrick could have agreed to this same contract in April, but both sides were too stubborn to bend, Jason Fitzgerald of Over The Cap writes.
Above all else, Fitzpatrick says that he did not want to miss any part of training camp, as Kimberley A. Martin of Newsday writes.
Photo courtesy of USA Today Sports Images.
Follow @PFRumors