FRIDAY, 11:44am: Jackson requested a public defender in the assault case, according to court documents obtained by TMZ Sports. The former quarterback claims to have no money to his name, although his request was denied by a judge.
According to OverTheCap.com, Jackson earned at least $3MM from 2013 through 2015.
JUNE 25th, 9:15am: Jackson posted a $2,500 bond and was released from jail yesterday, reports Hush. The 33-year-old has been charged with aggravated assault with a deadly weapon.
JUNE 24th, 5:06pm: Jackson was apparently intoxicated and told his wife "I'll kill you" while aiming the gun at her, according to Chris Hush of WESH (Twitter link), who passes along a copy of the arrest report, which states that marijuana was found in Jackson's home.
4:51pm: Free agent quarterback Tarvaris Jackson has been arrested for allegedly pulling a gun on his wife, according to a report from WESH (via Twitter).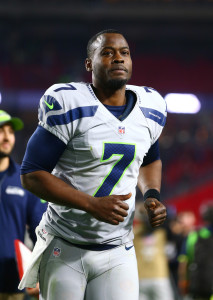 The former Seahawks backup received honorable mention last month when PFR's Dallas Robinson ran down the best free agents still available on the board. If these charges stick, however, one has to imagine that Jackson's odds of playing in the NFL this year are slim when considering his age (33), limited skill set, and lack of playing time across the last three years.
In late April, Seahawks coach Pete Carroll and GM John Schneider indicated that they were still in talks with Jackson about a return. However, that was before they inked former TCU signal caller Trevone Boykin and ex-BYU QB Jake Heaps.
Last year, Jackson appeared in four games for the Seahawks and completed four of six passes.
Photo courtesy of USA Today Sports Images.
Follow @PFRumors