After about a month of uncertainty, NFL.com's Ian Rapoport has finally received some specifics on the Aqib Talib incident from early June. Just a quick refresher: the Broncos cornerback was shot in the leg at a Dallas nightclub, and initial reports suggested that the 30-year-old had accidently shot himself. Days later, the Dallas Police Department said Talib was a victim of "aggravated assault." As our own Zach Links pointed out, "the five Ws of the ordeal" had never been clarified.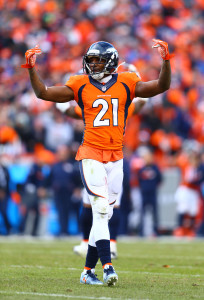 The Dallas Police Department incident report that was recently obtained by Rapoport (who passed along all of the following info via Twitter) seems to back the DPD's latter claim. Talib told officers he didn't know who shot him, and a witness claimed they only heard a single gunshot. Furthermore, the report indicated that an "unknown suspect shot the complainant." There's no mention of Talib shooting himself, which could indicate that the Dallas PD believes the defensive back was actually shot by another person.
Finally, Rapoport notes that one gram of marijuana was found by police, although nobody was charged. The entire incident report can be found here.
In early June, it sounded like Talib would presumably be handed some kind of suspension from the NFL. It's uncertain whether this new information will change the league's stance on the matter.
Follow @PFRumors