49ers coach Chip Kelly has said that Colin Kaepernick's controversial decision not to stand for the national anthem will not affect his standing in the team's quarterback competition. However, there's now word that Kaepernick could potentially be released before the start of the season for football reasons.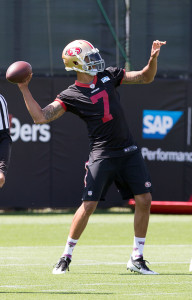 "Regardless of politics or not, he has a very, very big uphill battle to make this team," insider Jay Glazer said on FOX. "I'd be shocked if he's on the 49ers by the time this season ends. It has nothing to do with political views whatsoever. He lost a ton of weight this offseason, had three surgeries, couldn't work out, lost that double threat, that size-speed ratio. No political views, he just hasn't been effective. He's regressing as a player. I'd be shocked if he's on this roster by the end of this year. He may not be on it in the next two weeks."
It would certainly be surprising if the 49ers cut their one-time franchise quarterback before the start of the season, particularly given that his $11.9MM salary is guaranteed for 2016. By releasing Kaepernick, the Niners would effectively be saying that regardless of salary, Christian Ponder and Jeff Driskel are both better quarterbacks than he is at this moment. It's also possible that the Niners view Kaepernick's presence as a distraction and they may not want him lurking over Blaine Gabbert's shoulder in 2016.
Photo courtesy of USA Today Sports Images.
Follow @PFRumors