It wasn't long ago that Chip Kelly and quarterback Nick Foles enjoyed success together, but the duo won't be reuniting. In a radio interview on Monday morning, Kelly said that the 49ers will not pursue the free agent quarterback.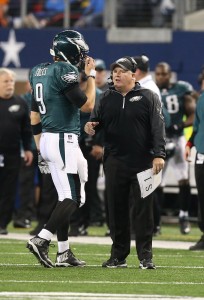 [RELATED: Cowboys Not Interested In Nick Foles Either]
"I'm a big fan of Nick, but right now, our eggs are in Kap and Blaine's basket," Kelly said on KNBR 680-AM, via Cam Inman of the San Jose Mercury News, referring to Colin Kaepernick and Blaine Gabbert. "We're going to see what those guys can do and we're very confident in both those guys. That's really got nothing to do with Nick, but it's got a lot to do with Blaine and Kap in giving them an ample shot at being the quarterback. If you have three guys in the mix, it gets really diluted and now you're not going to get enough reps for anybody to make a determination on who the quarterback should be."
Foles, a former third-round pick, had his breakout season under Kelly in 2013, when he threw for 2,891 yards, 27 touchdowns and only two interceptions for the Eagles. A broken collar bone ended his 2014 season, and the 27-year-old finished with 2,163 yards, 13 touchdowns and 10 interceptions in eight games.
Still, Kelly says that SF will focus on the quarterbacks they already have in-house. In addition to Kaepernick and Gabbert, the Niners also have Thaddeus Lewis and rookie Jeff Driskel on the 90-man roster, as shown on Roster Resource.
Photo courtesy of USA Today Sports Images.
Follow @PFRumors