Newly minted Eagles receiver Dorial Green-Beckham commented Thursday on the unexpected trade that sent him from Tennessee to Philadelphia on Tuesday, telling Zach Berman of the Philadelphia Inquirer he's "not necessarily sure" why the Titans dealt him. In return for the talented Green-Beckham, its second-round pick a year ago, Tennessee received offensive lineman Dennis Kelly.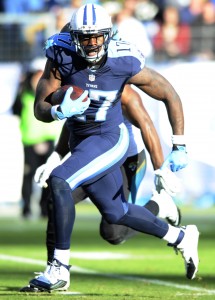 The Titans were reportedly disappointed in Green-Beckham's work ethic and conditioning, but the 23-year-old shot down the idea that he gave anything less than maximum effort with the club. DGB showed up to training camp "in great condition" this summer and did "everything" he needed to do, including put in extra work after practice, he informed Berman. Moreover, Green-Beckham refuted the notion that off-field concerns may have helped cause new Titans general manager Jon Robinson to part with him.
"Totally a whole different person," he said. "The off-the-field stuff is in the past, has been in the past. That stuff, I've never heard anything since then being brought up from anyone. That tells me I'm doing the right things."
Green-Beckham dealt with multiple legal issues at the University of Missouri, which led then-head coach Gary Pinkel to dismiss him from the team in April 2014. That came on the heels of allegations that Green-Beckham forced his way into a fellow student's apartment and pushed her down at least four stairs. Police quickly closed the case, citing reluctant witnesses fearing retaliation, after the alleged victim and another woman (Green-Beckham's then-girlfriend) told a detective they didn't want to press charges. Prior to that ordeal, Green-Beckham was arrested twice for marijuana-related incidents – the first of which led to a one-game suspension.
When his time at Missouri ended, Green-Beckham transferred to Oklahoma, but he didn't play a game with the Sooners and left school after the 2014 season to pursue his NFL career. In his first season in the pros, the 6-foot-5, 225-pounder hauled in 32 receptions, four touchdowns and averaged a lofty 17.2 yards per catch in 16 games (five starts). That wasn't enough for the Titans to keep him around, though, and he'll now try to make good on his vast potential in Philadelphia.
"I feel like being in this offense, I can catch a lot balls, score a lot of touchdowns," he said.
Green-Beckham made his first appearance as an Eagle in their preseason game against the Steelers on Thursday, going without a catch while logging some second-half playing time.
Related links:
Photo courtesy of USA Today Sports Images.
Follow @PFRumors