Bad news for the Falcons as rookie Keanu Neal will miss games due to his knee injury. The safety will be sidelined for three to four weeks, according to a team press release.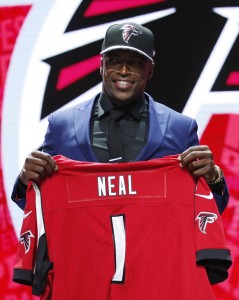 An MRI on Friday morning revealed that Neal will need a minor procedure done. The scope will take place on Monday.
The Falcons drafted Neal with the idea that he would start at strong safety from Day 1. Now, they'll have to wait a little longer to see him on the field. Recently, PFR's resident scouting guru Dave-Te Thomas wrote a glowing review of the Falcons rookie.
Neal is a smooth, fluid mover who has done quite a nice job of making plays at the opposite side of the field, thanks to his burst, second gear, and ability to sift through traffic to get to the ball. He shows excellent ball reactionary skills, along with the quick decision-making process to close on the play with good urgency. He can change direction in an instant and does a nice job of maintaining position when challenged by lead blockers assisting vs. the ground game.

He has the nimble feet you would want in a free safety, along with the loose hips to recover quickly when a receiver gets behind him. He can turn and run with the speediest of receivers, as he is a savvy player who knows how to disrupt the route's progression by using his hands to knock his coverage assignments off stride. He has the loose hips and sudden burst to close on the ball in a hurry and shows good body control in transition. Neal has excellent hand/eye coordination, along with the leaping ability to get fine elevation going up to get to the pass at its high point (team's active interception leader). He is quick and fast, which allows him to keep plays in front of him and mirror even the swift flankers and split ends in deep secondary coverage.
Photo courtesy of USA Today Sports Images.
Follow @PFRumors