The old adage that defense wins championships may or may not be true, but you'll be hard-pressed to find a title-winning team that didn't build heavily through the draft. Rookie classes, naturally, are evaluated on the perceived upside of the NFL newcomers, but which rookies are ready to contribute right out of the gate? And, how do they fit in with their new team schematically?
To help us forecast the immediate future of these NFL neophytes, we enlisted the help of draft guru Dave-Te Thomas who has served as a scouting personnel consultant to NFL teams for multiple decades.
First Round – Vernon Butler, DT (Louisiana Tech, No. 30 overall)
While Butler is certain to play an important role in the defensive tackle rotation this year, his arrival holds even further importance. With the first round pick showing flashes in camp, the Panthers have not yet embraced the idea of giving right defensive tackle Kawann Short the long-term deal the player wants. They could let Short walk after the season, if Butler shows he is ready to step in and contribute this season. 
Before his junior season, Tech coaches were seriously considering moving Butler to the offensive line – reasoning that his burst off the snap might be a better fit trap blocking from the guard position. Instead, they kept him on the D-Line and watched his draft stock soar.
Butler is a highly competitive sort who relishes his role as the defense's "garbage man," taking on multiple blockers constantly to free up a fellow Bulldog defender to make the play. He is simply unstoppable when he charges through the gaps and uses his hands with tremendous force when facing constant double teams. Some scouts were concerned about his gas tank late in games, but he worked hard during the 2015 offseason to get his weight down in order to eliminate his "tired legs" issue.
His strength at the point of attack is one of his best assets, as I have yet to see any blocker, or blockers, capable of riding him out once he anchors and establishes position in the trenches. He doesn't use his violent hand punch as much as he should, but he can easily obliterate any blocker once he gets his hands into their body. He is the type that will rarely ever get bounced around by double teams, thanks to his overall strength and ability to remain at a low pad level. With his big, strong hands, body mass and aggression, Butler excels at shutting down the interior running game.
Second Round – James Bradberry, CB (Samford, No. 62 overall)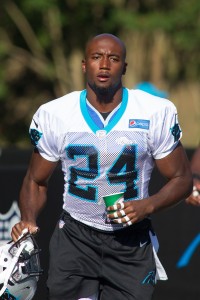 When a team loses a vital cog in their secondary like Josh Norman, it is very hard to replace that talent. However, the Panthers thought that Norman might have peaked last year and was not worth the money he was asking. Besides, there were locker room whispers than his on-field antics were starting to get in the way of his play and the solution for the team was to find his replacement in the draft. Carolina selected Bradberry in the second round, followed by West Virginia's Daryl Worley in the third round. They then took Oklahoma's Zack Sanchez in the fifth round, hoping one might of the three emerge this year. The Panthers' depth chart now has Bradberry and Worley in the starting spots while Sanchez will serve as the swingman, backing up both of his fellow rookie defensive backs.
The reason for his instant success in Panthers camp is the fact that Bradberry is a smart, instinctive, and tough football player, one who diagnoses plays quickly and frequently a step ahead of the receivers. He is a physical tackler who can jam receivers when asked to line up in press coverage and he has the closing burst, along with awareness and positioning to make plays on the ball in flight, showing that second gear needed to run with receivers downfield.
Bradberry has fluid hips and can change directions instantly, doing a nice job of rotating his hips when coming out of his backpedal. He is savvy enough to know how to recover from rare false steps when keeping the receiver in front of him and he displays natural hands to snatch the ball out of the air. In run support, he fills hard and flashes the ability to deliver the big hit. He takes sound pursuit angles and is a consistent open field tackler that does a nice job of breaking down in space.
While his total tackle numbers are not awe-inspiring, Bradberry consistently steps up and makes hard tackles in run support and on receivers after the catch. He does a good job of using his hands to jolt and slow the receiver's release off the line of scrimmage and he is able to stay with the receiver on short routes. He has the ball skills to reach in front of the receiver and consistently break up passes. He also reads the quarterback well in zone coverage. When he gets started toward the receiver, he has a good closing burst to either break up or intercept the pass and is especially effective in the red zone.
Third Round – Daryl Worley, CB (West Virginia, No. 77 overall)
Worley continues to prove in camp that his 2015 season, when he led the Big Twelve Conference with six interceptions and twelve pass deflections was no fluke. Through 34 games with the Mountaineers, he started 27 times – often covering the opponent's top wide receiver. He recorded 146 tackles (126 solos) through three seasons, making 9.5 stops-for-loss while picking off a total of ten passes and breaking up 21 other throws.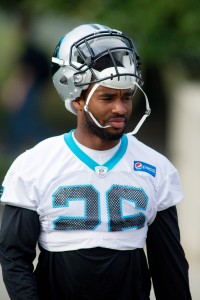 Worley is a well-built athlete and he uses his size to be very effective with his initial jam at the line of scrimmage. He displays loose hips to turn and run with the receiver and can shadow even the speediest opponent due to very good lateral quickness and the ability to plant and go out of his cuts. He has that explosive burst to close on the ball and evident by his thefts and break-up figures, he gets his hands on a lot of passes.
Worley is a natural playmaker with soft hands for the interception, one who times his leaps well and can snatch the ball out of the air. He demonstrates good body control to make the catch outside of his frame and looks natural with the ball in his hands, along with possessing a good feel for the return and the vision to set up blocks. He has the agility and quick burst to accelerate, which makes him a reliable open-field tackler who can break down in space well and wrap his arms securely.
Seventh Round – Beau Sandland, TE (Montana State, No. 252 overall)
Normally, a seventh round tight end will barely get noticed in Panthers camp, but with All-Pro Greg Olsen dealing with back problems and backup Ed Dickson sidelined with a groin injury, the former Miami product who transferred to MSU is in line to earn the final spot on the three-man tight end depth chart.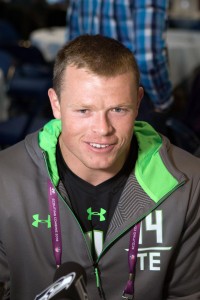 This well-traveled tight end finally found a home in the Big Sky Country, where he has developed some very impressive blocking skills. Sandland sat out the 2014 schedule after transferring in late August. It allowed him time to add muscle and bulk in the training room. By the time the 2015 season commenced, he was firmly entrenched as the Bobcats' starter. The All-American third-team and All-Big Sky Conference first-team choice by The NFL Draft Report contributed 37 catches for 632 yards and nine touchdowns during his lone season at MSU. Sandland's nine scoring receptions led the tight end in the NCAA Football Championship Subdivision ranks and his 632 yards placed second at that position behind 850 recorded by Harvard's Ben Braunecker. His nine touchdowns also tied for fifth on the school's season-record chart.
Sandland is a fluid open field runner who is a valid threat to stretch the field or out-muscle defenders to get to the ball in a crowd. He is the type of runner that needs to be accounted for by the opposing safeties, as the slower linebackers struggle to maintain mirror in his route progression. He has large, natural, soft hands that lets him extend to catch outside the body's frame. He almost never body catches and has the pluck-and-snatch agility to get to almost any pass thrown his way (only two drops in 2015). He is a smooth catcher and makes a concentrated effort to get to all throws – even the off-target ones.
Undrafted Rookie Free Agent – Keyarris Garrett, WR (Tulsa)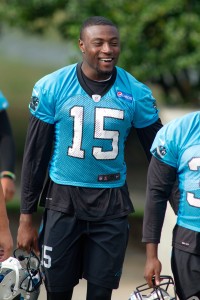 Kelvin Benjamin is reportedly out of shape as he recovers from last season's knee injury and fellow wide receivers Stephen Hill (knee) and Brenton Bensin (ribs) also at less than 100%. One player to keep an eye on as training camp winds down is free agent Keyarris Garrett. The Tulsa standout was not taken in the draft, despite standing at 6'4″, 222 pounds with 4.5-second speed and a 37-inch vertical jump. Last season, he averaged 122.2 receiving yards per game, tallying an NCAA-best 1,588 yards with eight touchdowns on 96 catches.
Back in form as a senior, Garrett tested well at the NFL Scouting Combine and during Tulsa's Pro Day, but then sat and waited for a phone to ring during the three-day draft event. Knowing that the Panthers were lacking depth at wide receiver and their penchant for signing big wideouts, so far, it looks like the team and player are finding common ground. If the injuries linger for Hill and Bersin, the Tulsa talent might be able to secure the fourth or fifth spot in the receiving corps.
Garrett is "starting to string it together," according to head coach Ron Rivera, as the receiver has caught Rivera's attention with his good performances throughout training camp. Now, the prolific producer at Tulsa is looking to continue his recent success in an attempt to carve out a role in the passing game. Based on his performance last year, you can see he is a player who can dominate smaller defensive backs with his height and strong overall build. His long strides give him deceptive downfield speed and he takes advantage of soft coverage with receiver screens and short patterns, making better use of his foot quickness than expected for his size.
Garrett generates quick moves at the line to get off a jam and shows that he is able to snatch the ball with his hands, secure it and quickly turn to get additional yardage. He has become a strong red-zone presence and jump-ball target due to his height, length and size. He will use his hands well while blocking on the outside, which can make him a valuable asset in the running game. While he doesn't have elite top-end speed he does demonstrate impressive body control and soft hands.
The Tulsa product can twist his body to catch off-target passes with remarkable ease and can get up high to make the catch over cornerback in jump-ball situations. He has shown in camp that not only is he fully recovered from leg woes, but that he has no fear catching passes in traffic, taking a hard hit and holding on to the ball. He is the type that comes down the line aggressively and will blow up the linebacker on a crack-back block. He also does well blocking down the field, staying after blocks and eliminating the defender to spring the ball carrier for a big play.
Dave-Te Thomas owns and operates The NFL Draft Report, a service providing insight to league scouting departments for over 40 years. All year round, you can read Thomas' in-depth reviews of both blue chip prospects and diamonds in the rough by visiting the NFL Draft Report blog.
Photos courtesy of USA Today Sports Images.
Follow @PFRumors