The old adage that defense wins championships may or may not be true, but you'll be hard-pressed to find a title-winning team that didn't build heavily through the draft. Rookie classes, naturally, are evaluated on the perceived upside of the NFL newcomers, but which rookies are ready to contribute right out of the gate? And, how do they fit in with their new team schematically?
To help us forecast the immediate future of these NFL neophytes, we enlisted the help of draft guru Dave-Te Thomas who has served as a scouting personnel consultant to NFL teams for multiple decades.
First Round – Carson Wentz, QB (North Dakota State, No. 2 overall)
"You can never have enough arms," might be what you hear from the Philadelphia Phillies pitching coach, but it looks like Eagles GM Howie Roseman took that phrase to heart with his recent dealings at the quarterback position. He turned a journeyman quarterback (Mark Sanchez) to the Broncos for a conditional seventh-round pick in 2017. Sanchez had played in thirteen games for the Eagles since he joined the team in 2014, but with Doug Pederson taking over as head coach, the team decided to blow up the quarterback position.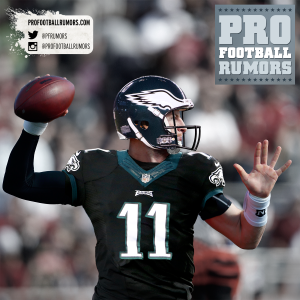 It was expected that Pederson would hang his coaching future to the fragile body of Sam Bradford, but in a surprising move, the team handed a high-priced multi-year deal to one of Pederson's old quarterback students – Chase Daniel. There were rumblings that even with those two in the fold, that names like 49ers disgruntled passer, Colin Kaepernick, was brought up in serious discussions held by the front office. Even then, free agent Robert Griffin III was considered for added depth.
Then, the rumors refused to die – the Eagles wanted to move up in the draft and were in talks with Tennessee for the top pick, before the Titans agreed to ship that choice to the Rams. Roseman then turned to Cleveland, pulling off a trade that saw the Eagles send the Browns their eighth overall selection, their third round pick (No. 77 overall) and fourth round choice (No. 100) in the 2016 draft, along with a first rounder in 2017 and a second round pick in 2018. In addition to securing the second pick in the draft, Philadelphia also took home a fourth round in 2017 in the exchange.
Roseman did not hesitate to snatch away Carson Wentz after the Rams selected California's Jared Goff, . Word was that if the Rams took Wentz, the Eagles simply would have taken Goff instead. Actually, for the system Pederson runs, Wentz might be a glass slipper fit, while Goff would have had to adjust from the system he was developed under in California.
In just two years as a starter, Wentz has delivered the Bison a pair of NCAA Football Championship Subdivision national championships. He has started just 23 games, compiling a 20-3 record at the helm. A right wrist fracture sidelined him for most of the second half of the 2015 schedule, but he returned in time to help the team record its fourth consecutive FCS title.
Despite having just two seasons as a starter under his belt at NDSU, you could tell from that first practice that Wentz was a good student of the game, one that can easily adjust from college ball to raise his game to another level in a pro-style passing attack. There is no question that he has a solid feel for pre-snap reads, doing a nice job of making checks and locating secondary targets (he distributed the ball to an average of eight different receivers per game in 2014-15). He is a smart passer with keen eyes scanning the field and follows through with his progressions. With innate instincts and ever-improving developing decision making skills, it seems like he's not far off from being able to handle a pro offense.
With Bradford starting and Daniel also on the depth chart, Wentz does not have a clear path to play in 2016. At least, not just yet. If the oft-injured Bradford finds himself sidelined again, we could see the rookie under center. Wentz still needs time to develop, of course, but he already has the acumen to lead an NFL offense if called upon.
Continue reading about the Eagles' rookie class..
Third Round – Isaac Seumalo, OG/C (Oregon State, No. 79 overall)
The Wentz trade did not leave the Eagles with a ton of wiggle room, as they did not get back into the draft picture until taking Isaac Seumalo at No. 79. The Eagles failed to address cornerback needs until the sixth round, but they at least made a solid pick for their offensive line in the third.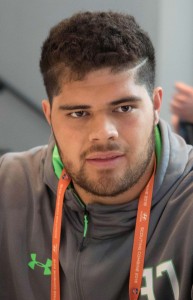 Seumalo's versatility is a major plus as he started 23 games at center, nine at right guard, three at left tackle, and two at right tackle. He joined the OSU program out of local Corvallis High School, where he was rated the second-best offensive lineman in the country by Super Prep during his senior season. He followed his brother, Andrew, who played defensive tackle for OSU from 2009-12 and currently serves the team as a coach's assistant.
The four-star recruit and one of the best pulling guards in the nation was thrust into the starting lineup at center during his first season at Oregon State, the first true freshman to start in the pivot for the team since Roger Levasa in 1978. He was one of just two first-year centers to make his debut as a starter that year. A knee injury prevented him from playing in the 2013 season opener, but he returned to start ten games at center and two more at right tackle. The All-Pac 12 Conference choice suffered a foot injury in the Hawaii Bowl and it would force him to sit out the entire 2014 campaign.
Seumalo returned to action last season and collected 73 knockdowns in the process, making twelve touchdown-saving blocks while bouncing around the line. He started nine games at right guard and three more at left tackle on the way to receiving All-Pac 12 and Academic All-Pac 12 accolades.
When it comes to run blocking, Seumalo comes off the snap with his hands on the rise and is very effective at walling off the defender. He hits with tremendous force and is very good at clubbing the defender in the head or chop blocking to take the opponents off their feet. His raw strength will neutralize even the strongest of bull rushes and he is very effective at creating movement and pushing the pile. He is an efficient road grader who consistently plays with leverage. He keeps his feet moving upon initial contact and is very good at using his hands to move the pile. He has the brute strength to overpower and controls the action with his quick first step and low pad level to maintain position with a strong base.
Seumalo might lack ideal height to play on the edge, but with his quick kick slide, he does a very good job of neutralizing pocket pressure and can hold his own in passing situations. He has the strength and wide base to hold ground firmly at the point of attack and keeps his hands active to defeat counter moves. He has the keen vision to quickly locate and pick up stunts and flashes good pass set, knee bend and anchor to beat even the quicker defensive tackles.
With his kick slide and lateral agility, he could be very effective playing in front of the quarterback at center. As shown on Roster Resource, Seumalo is slated to be in a key reserve role for the Eagles this year. Free agent pickup Stefen Wisniewski should be the first choice if Jason Kelce, Allen Barbre, or Brandon Brooks suffer an injury, but Seumalo is next up on the interior O-Line depth chart.
Seventh Round – Jalen Mills, CB (LSU, No. 233 overall)
Mills enters training camp listed second on the depth chart behind Nolan Carroll at right cornerback, but he should at least garner playing time as the slot corner as a rookie. Before long, either Mills or Eric Rowe could be a logical replacement for Rodney McLeod at safety, if he cannot live up to his pricey free agent deal. Rowe is expected to challenge Leodis McKelvin at the left corner spot, but he also could pose a challenge for Mills in the slot.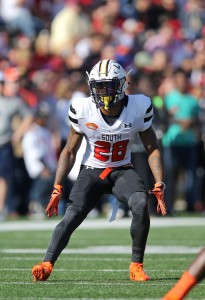 There was a lot to like about Mills for scouts this year, but he still found himself under the microscope for a May 2014 incident in which he was arrested and charged with second-degree battery. The Baton Rouge Police confirmed that Mills allegedly punched a woman in the mouth at the door of his apartment on May 4th. The victim told police she was briefly unconscious and required several stitches on her lip and later identified Mills in a police lineup. Charges were later reduced and Mills was reinstated to the team in time for fall camp.
Mills has always been an invaluable piece in the Tigers secondary, first starting off his career as a field cornerback. He made 57 tackles with two thefts and five pass break-ups while starting all thirteen games as a freshman. He took over slot corner duties in 2013, responding with 67 tackles that included three sacks. In 2014, Mills took over free safety duties, as he delivered 62 tackles. During 2015 August drills, Mills suffered a fibula fracture that would force him to miss the first half of the season. He returned to start six times at the slot cornerback position, where he responded with 30 tackles and one sack through seven appearances.
Mills is quick to locate the ball, as he is very consistent in anticipating and jumping the routes. He might lack that explosive second gear, but shows the burst and urgency to close on the play in a hurry. He is better with the action in front of him, thanks to his keen feel for taking proper angles. He is very physical when making the tackle and shows good intensity getting to the rush lanes. He has the change of direction agility to cover along the sidelines and shows above average hand usage and extension to attack the ball in the air and reach around the receiver to deflect or pick off the pass.
Of course, Mills' off-field incident and his injury history are major red flags. However, Mills has the natural talent to be an impact player at the next level and could prove to be a tremendous late-draft value for the Eagles.
For what it's worth, the Eagles also think they might have a seventh-round find for their feeble pass rush in Alex McCalister, who recorded twelve sacks last season. An imposing-looking athlete with arms nearly 37-inches long, he was also a red flag draft pick, as issues off the field led to his dismissal at Florida.
Dave-Te Thomas owns and operates The NFL Draft Report, a service providing insight to league scouting departments for over 40 years. All year round, you can read Thomas' in-depth reviews of both blue chip prospects and diamonds in the rough by visiting the NFL Draft Report blog.
Photos courtesy of USA Today Sports Images.
Follow @PFRumors