The old adage that defense wins championships may or may not be true, but you'll be hard-pressed to find a title-winning team that didn't build heavily through the draft. Rookie classes, naturally, are evaluated on the perceived upside of the NFL newcomers, but which rookies are ready to contribute right out of the gate? And, how do they fit in with their new team schematically?
To help us forecast the immediate future of these NFL neophytes, we enlisted the help of draft guru Dave-Te Thomas who has served as a scouting personnel consultant to NFL teams for multiple decades.
First Round – Vernon Hargreaves III, CB (Florida, No. 11 overall)
Hargreaves shows above average body control and does a nice job of keeping his feet on the move. He shows good agility and balance, but needs to redirect and change direction skills better when challenging the receivers running deep routes along the perimeter. Still, he shows explosion out of his plant and is a quick twitch type who shows good alertness vs. plays in front of him. When beaten, he has that sudden burst to recover. His quickness in transition prevents smaller receivers from getting good position working underneath vs. him.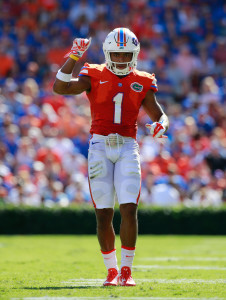 Hargreaves is a mentally tough athlete and solid hitter who could play inside at safety, if needed. Still, his primary position with the Bucs will be cornerback. He will hustle and run down a ball carrier from across the field and seems to enjoy the contact in run force. He plays at full speed and few players in the game of foot-ball can match his quickness. He competes for the ball with no regard for his body.
With his exceptional speed. Hargreaves has no problem maintaining inside position when challenging a receiver in man coverage, especially when working along the sidelines. He has the speed, closing burst and ball reaction skills to stay tight with any opponent, whether they are quick and fast or tall and physical. He needs to improve his strength base, so not to get backed off by the bigger receivers at the next level, but has the frame to add the power needed.
Hargreaves will be a starter right off the bat for the Bucs and anyone who doubts his ability clearly wasn't watching Saturday night's preseason contest against the Jaguars. Hargreaves picked off opposing quarterback Chad Henne twice, helping Tampa Bay to a 27-21 victory.
Click here to continue reading about the Bucs' rookie class..
Second Round – Noah Spence, DE (Eastern Kentucky, No. 39 overall)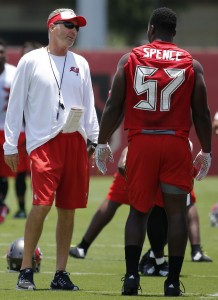 Multiple drug test failures brought Spence's Ohio State career to an end prior to the 2014 season, forcing him to sit out the year before he was accepted at Eastern Kentucky. Spence knew this was his "last chance saloon," at EKU. He made the most of that opportunity, leading the Football Championship Subdivision with 22.5 stops behind the line of scrimmage while placing second with 11.5 sacks. He added 63 tackles through eleven games along with fifteen QB pressures and three forced fumbles. His average of 2.25 tackles-for-loss per game is the 18th-best figure in NCAA FCS history.
Spence then faced his biggest challenge – scouts and coaches at the 2016 Senior Bowl grill session. He handled himself well under a slew of questions about his troubling 2014 season. He then went out on the field at Mobile and simply dominated. By the end of the Senior Bowl practices, he was the near unanimous choice by NFL decision makers when it came to naming the top defensive performer at the event. Many teams wondered if the college rush end could make a successful transition to professional outside linebacker. The Bucs didn't have that dilemma, however, as they felt comfortable with using him as a DE at the next level.
Despite his "bonehead mistakes" off the field, Spence is an instinctive player, but not the type that will out-think himself on the field. He is a quick reactor to action in front of him and easily picks things up well, showing no problem taking plays from the chalkboard to the playing field. There should be no issues with him digesting a complicated playbook. Spence is reliable, works hard in the weight room, and is a self-starter. He takes well to hard coaching and is the unquestioned leader of the defensive unit. For his age, he had an advanced knack for reading the quarterback well, as it is rare to see him fooled by misdirection or play action.
Spence is quite effective using his strong hand punch to shed blocks, but it is his ability to jam/reroute receivers that will earn him success when utilized as a 3-4 strong-side linebacker at the next level. He has no problem holding up tight ends and slot receivers in the short area passing game. He is an active, fend-off type of defender that will shock-and-jolt versus offensive linemen, as he also knows how to deliver a blow and is quick to get placement when trying to grab and jerk on the opponent's jersey. When he keeps his pads down and hands inside the framework, he can clear blocks and get to the ball regularly. Even when his pad level gets high at times, he has a very good punch and extension to defeat the blocks. He uses his hands well with good placement, but does struggle some to shed and escape at times (mostly when working in-line). He has very good rip and pull moves, along with the ability to get active with his hands when attempting to separate vs. the blockers on inside running plays.
The Bucs plan on using Spence off the bench in his rookie season, playing in support of William Gholston and free agent addition Robert Ayers. Ayers put up some gaudy sack numbers with the Giants last season and Spence may be able to get some numbers of his own in this bookend rotation.
Second Round – Roberto Aguayo, K (Florida State, No. 59 overall)
Finally, I get to write about a kicker in this series!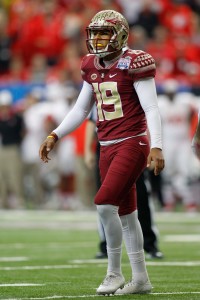 Ask anyone in the scouting industry and they will tell you that lightning struck twice. More than a decade after Al Davis selected Sebastian Janikowski in the first round, an FSU player was unanimously dubbed as the best placekicker in his draft. Statistically, the Seminole is the most accurate kicker in the history of the college game. For his career, he tallied 405 points, making all 198 of his conversion tries and 69-of-78 field goals (88.46%) in three seasons.
Aguayo became the second Seminole in program history to be a three-time first-team All-American, joining Deion Sanders. Last season, he was named a semifinalist for the Lou Groza Award and finished the schedule going 21-for-26 on field goals, hitting his two longest (45 and 51 yards) vs. Florida in the regular season finale in Gainesville. He also connected on all 49 PAT chances during his redshirt junior season, placing second on the team in points with 112. He ranked fifth in the Atlantic Coast Conference in field goal percentage (.808) and field goals per game (1.62) and sixth in scoring (8.6 ppg).
While most kickers have a small frame, Aguayo stand 6'0″ and weighs 207. He shows good muscle tone, firm midsection and proper thigh and calf development. He's very poised under pressure, showing great confidence in his ability to kick for distance and in poor weather conditions. He has tunnel vision on the field, blocking out all distractions and demonstrates pretty decent speed and urgency getting down field to help the kickoff coverage unit.
Aguayo has the quickness, balance, agility and leg flexibility to put full force behind his kicks from either hash, as he hits the ball with a quick stride, showing steady acceleration and trajectory on his attempts. He displays excellent mechanics and in a pinch, he can handle the multiple kicking chores, along with connecting with the ball with very good pop on contact during kickoffs, field goals and extra points. He has shown marked improvement getting his kickoffs to sail through the end zone (123-of-287 attempts resulted in touchbacks, 42.86%) and while he's never been used for punting duties, he has the ability to field snaps with ease and can adjust to the off-target snap.
Aguayo can drive the ball deep on kick-offs, even when making attempts into the wind. He shows very good strength on contact with the ball, driving it deep and with great hang time. He is the type that can consistently get the ball into the end zone on kickoffs and has the range to make field goals from the 50-yard area. Each year, he has developed quicker steps to the ball, as he starts his motion early, giving him good snap-to-toe timing (1.29 second on field goals/1.21 on PATs).
The ball can explode off his foot and he has showed good improvement with his trajectory over the years (hang time was as low as 3.84 seconds earlier in his career, but his kickoffs averaged 4.28-4.54 seconds in 2015). The ball jumps off his foot with good rise on field goals/PATs, as he can generate good lift upon contact. He puts some nice air under his kick-offs and is not prone to kicking line drives. He also demonstrates the ability to kick off towards the corners or let the ball sail out of the end zone.
Aguayo can kick from both hashes effectively and he makes proper adjustments in his approach to the ball, based on field and weather conditions. He's poised and in control in pressure situations, showing confidence and concentration coming through in the clutch. He's also a tough open field tackler who will square up, wrap and secure with good pop on contact. He has the loose hips to recover when he's juked by a returner and is not afraid to stick his hat into the pile.
For what it's worth, Aguayo seems to be having some hiccups in preseason, but we're hoping that he's just getting the rookie jitters out of his system in advance of the regular season.
Photos courtesy of USA Today Sports Images.
Follow @PFRumors