With the season fast approaching, we're chatting with beat writers from around the league to gain insight on each team's offseason and how those moves will impact the season ahead.
Now, we continue the series by discussing the Broncos with Troy Renck of Denver7. You can follow Troy on Twitter @TroyRenck (Note: The conversation took place on Friday, prior to the Broncos' Saturday's preseason game against the 49ers).
Zach Links: Is Ronnie Hillman in danger of not making the team? Are you surprised by him being on the roster bubble?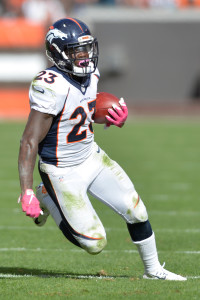 Troy Renck: Yes, Hillman is in real danger of not making the cut. He is competing against Kapri Bibbs who has kick return ability and it is hard to see both players making it. Bibbs is a more versatile special teams guy than Hillman is and they are really intrigued by Devontae Booker's potential.
Zach Links: At what point did you realize that Hillman could be a roster casualty?
Troy Renck: As soon as they drafted Booker. Hillman went out into free agency and, unfortunately for him, he played his worst football in the playoffs. That was everyone's last view of him and when he found a tepid market, he came back to Denver on a cheap deal. In my opinion, they re-signed Hillman to protect themselves in the draft so that they didn't have to reach for a running back. Luckily for them, they got Booker.
Zach Links: What does Vance Walker's absence mean for the Broncos? How might they look to fill the void?
Troy Renck: It hurts. He was already the guy filling in for Malik [Jackson] and he's a really good run stuffer and a versatile guy. They signed Jared Crick and they're hopeful that he can be an every down guy. It also puts the onus on Darius Kilgo. They need him to step up and provide real depth. Overall, it's an area of concern for sure.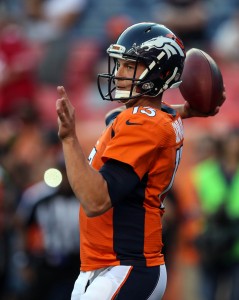 Zach Links: Who do you think should start at quarterback for the Broncos in Week 1?
Troy Renck: I don't know the answer to that yet. It's just such a huge game for Trevor Siemian on Saturday for me. He is likely to get a quarter and half with the starters and, if he nails it, he has the edge. It's no longer like Sanchez controls his own destiny. If Siemian nails his performance, he's the leader. The easy bet would have been Sanchez because of the experience, but obviously there hasn't been enough distance between the two since April to make that a lock.
Zach Links: Which Broncos rookies do you think could contribute right away?
Troy Renck: Andy Janovich. He's going to be their starting fullback right off the bat. He's been impressing on special teams. Booker's ability in pass protection has surprised me, he's much more advanced in that area than I expected.
I'm also encouraged by Paxton Lynch's progress. He's really taken to the team's coaching and so far so good with him. I think Lynch is their best athlete at the position and when he has to color outside of the lines, he is the best. He's not ready yet to run the offense, but he has been impressive.
Zach Links: How do you see this season playing out? Can the Broncos repeat as champs?
Troy Renck: I don't see a Super Bowl title for Denver but I see a team that can go 11-5 and get back to the playoffs. I don't know that they can get home field advantage and that hurts. A lot of things fell into place for the Broncos last year. They set a record for games won by seven points or less, which demonstrates that they had some good breaks. They created some of those breaks for themselves, of course, but they won on really close games.
I think their defense is going to be outstanding, but I don't know if they have enough to get home field advantage to get them though the playoffs. It could be a hard road through the playoffs, but I see a playoff team and a team that can win the division for the sixth-straight year.
Photos courtesy of USA Today Sports Images.
Follow @PFRumors