First-round holdout Joey Bosa's agent, Brian Ayrault, has issued an acerbic response to the Chargers' Wednesday statement concerning the lack of progress in contract talks between the two sides. Via Adam Schefter of ESPN: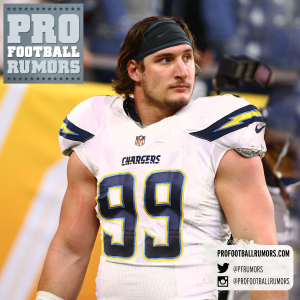 "It is unfortunate the San Diego Chargers have decided to manipulate facts and negotiate in the media. The team surely is not strengthening its relationship with Joey Bosa by taking this stance and making their position public.
We have decided that we will not engage in public negotiations or discuss numbers and/or terms in this negotiation.
We will say, that it is ironic that the team now takes issue with the timing of Joey's arrival, since the Chargers unilaterally decided to remain silent for the first 14 days of training camp instead of replying in a timely fashion to the proposal we made on the eve of training camp on July 28th.
At this point, all we can do is continue to fight for a fair contract on behalf of our client, as we do for all of our clients. The Chargers can focus on trying to sway public opinion, but our focus will remain on our client and securing a contract for him that is fair and consistent with his draft position."
We learned earlier Wednesday that the Chargers pulled their latest offer to Bosa off the table after the third overall pick declined it. Chargers president John Spanos later went on to refer to Bosa's holdout as "absolutely asinine" and implied that neither the defensive end nor his agent have been reasonable in negotiations.
The Bolts and Bosa have been at loggerheads for months over signing bonus distribution and offset language in the 21-year-old rookie's prospective contract. According to Kevin Acee of the San Diego Union-Tribune, the Chargers' since-tabled proposal included an 85 percent payout of Bosa's bonus in Year 1 of the deal. While Ayrault has budged from his insistence that Bosa should receive the entire bonus up front, per Michael Gehlken of the Union-Tribune, the Chargers' increase from 61 percent to 85 percent wasn't enough to lead to an agreement.
Photo courtesy of Pro Football Rumors' Instagram account.
Follow @PFRumors