With the season fast approaching, we're chatting with beat writers from around the league to gain insight on each team's offseason and how those moves will impact the season ahead.
Now, we continue the series by discussing the Browns with Jeff Schudel of the The News-Herald and Morning-Journal. You can follow Jeff on Twitter @jsproinsider and check out his stories here.
Zach Links: As expected, the Browns named RGIII as their starting quarterback this week. What are your expectations for him? Can he recapture some of the magic he showed early on in Washington?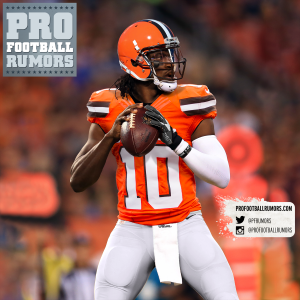 Jeff Schudel; I do have high expectations for RG3, but that might be a relative term. He will become the Browns 25th starting quarterback in 18 years when he takes the first snap against the Eagles on Sept. 11, so if he manages to throw more touchdown passes than interceptions and win five or six games he'll be a success. Griffin has surprised me with his running. I don't expect him to run as much as he did in 2012 when he was a rookie with the Redskins, but Hue Jackson will design runs for him.
Zach Links: Speaking of the quarterback position, what do you think the Browns should do with Josh McCown? Should they continue to hold out for a third- or fourth-round pick from the Cowboys in a potential trade?
Jeff Schudel; In my opinion the Browns should not take less than a third for McCown. That is probably too steep for a quarterback that was 2-17 over the last two seasons, but he is worth more to the Browns as a backup than a fourth-round pick would be. The odds of RG3 making it through 16 games behind this offensive line are slim. Rookie Cody Kessler isn't ready to play.
Zach Links: Are you optimistic about Josh Gordon's long-term prospects? Do you think he'll get his off-the-field affairs in order and focus his full attention on football going forward?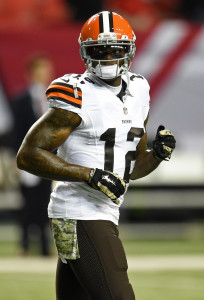 Jeff Schudel; I do have faith in Josh Gordon. He has a strong support group within the Browns and he seems to be hanging around the right people. He is a smart young man who has done dumb things in the past. I think this is critical for Gordon's success: He is suspended for the first four games of the regular season, but he can be around the team in meetings, the weight room and all activities except practice and games. It seems to me players with substance abuse problems have a much better chance of success if they can be around their support group.
Gordon knows this is his last chance. He will never be reinstated if he is suspended again. I am not speaking for the Browns, but one more strike and I could not imagine them giving him another chance. Goodell would, I presume, likely make their opinion irrelevant.
Zach Links: How will Desmond Bryant's absence affect Cleveland's pass-rush?
Jeff Schudel; The Browns are thin behind Desmond Bryant. John Hughes is likely to end up with his job, but Hughes was absent from training camp from Aug. 2-16 for personal reasons involving a family member. He says he is back for good. Bryant had only six sacks, but that led the team in 2015. The Browns will have to get more from outside linebacker Paul Kruger (2.5 sacks last year) to minimize Bryant's loss.
Zach Links: Out of the Browns' 14 rookies, which ones are you especially excited about?
Jeff Schudel; Corey Coleman is going to be a productive player, but as the 15th overall pick and the first receiver off the board he should be. He is fast, tracks the ball well and can run after the catch.
Two later picks could also make an impact. Carl Nassib, the defensive end from Penn State picked in the third round, 65th overall, led the nation with 17.5 sacks past year. He has shown in preseason he can get to the quarterback in the NFL. He is playing against NFL backups for now and will have to prove he can succeed against front-line offensive tackles to get more playing time.
Rashard Higgins, a fifth-round receiver taken with the 172nd pick from Colorado State, could be a move-the-chains receiver. He runs precise routes, fights through traffic, and can catch the ball in a crowd.
Zach Links: What differences have you already noticed in Cleveland with Jackson at the helm?
Jeff Schudel; It is impossible not to notice a difference with Jackson running the show. He is more than an administrator. He actually coaches players if they aren't doing something correctly. Players have bought into his coaching style.
I think it is significant that Jackson hired Ray Horton as defensive coordinator. Horton has credentials and experience to be a head coach. To me that means Jackson has enough confidence in himself that he isn't afraid an assistant will take his job.
Photos courtesy of USA Today Sports Images.
Follow @PFRumors