This week, the Chargers' future has resurfaced as a key topic despite the seminal downtown-stadium measure not being set for a vote until November. The latest news coming out of San Diego leans toward the Bolts packing up and leaving.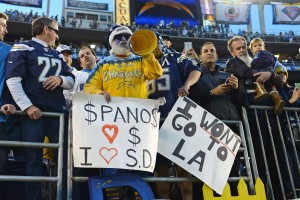 Sources have informed Jason La Canfora of CBSSports.com the Chargers, assuming this upcoming vote fails to surpass the two-thirds majority as expected, will have no choice but to accept Stan Kroenke's offer and join the Rams in Los Angeles in 2017. The Chargers' decision-makers are now resigned to the fact the stadium measure will fail and put them to a choice to follow through on the Los Angeles move, which has long been associated with a better financial opportunity for the team.
These sources told La Canfora this not being the Bolts' final home opener in San Diego would represent a "shocking" turn of events. The Chargers clearly aren't excited about becoming Kroenke's tenant in Inglewood but don't exactly view their chances as favorable of ever winning a local vote if this one doesn't go their way.
"It's pretty cut and dry," one official told La Canfora. "There is no unknown solution waiting to surface."
This runs counter to former Bolts GM A.J. Smith saying those around the league believe the Chargers will stay in San Diego. The Chargers have long let it be known they're unhappy at their current Mission Valley site, hence the team's effort to secure public funding for a downtown stadium. If that fails, the Chargers would almost certainly be forced to remain at their current site, at which they'll begin regular-season play for a 49th year, if they were going to stay in San Diego.
The Los Angeles Coliseum, which will host the Rams for three seasons beginning today, looks like the Chargers' playing site for two years, per La Canfora. But he also hears from some in the organization the much smaller StubHub Center could be a better fit.
Used to host Major League Soccer's Los Angeles Galaxy and second-tier boxing cards, the StubHub Center holds 30,000 fans — which would be by far the smallest venue in the NFL. Although, the Chargers bolting for Los Angeles would be a curious fit since the franchise has no real history there despite playing in the city in 1960 and already watched a team that does have history in L.A. move back. So, how the team would be perceived from a fan-interest standpoint after leaving its longtime market would be interesting.
While we've heard neither Kroenke nor the NFL want two teams in Los Angeles, La Canfora notes the league "staunchly" does not want the Raiders in L.A., and owners believe Dean Spanos could opt for a lower relocation fee than the Rams' $550MM due to this.
Follow @PFRumors