The old adage that defense wins championships may or may not be true, but you'll be hard-pressed to find a title-winning team that didn't build heavily through the draft. Rookie classes, naturally, are evaluated on the perceived upside of the NFL newcomers, but which rookies are ready to contribute right out of the gate? And, how do they fit in with their new team schematically?
To help us forecast the immediate future of these NFL neophytes, we enlisted the help of draft guru Dave-Te Thomas who has served as a scouting personnel consultant to NFL teams for multiple decades.
Out of eleven selections, we here at The NFL Draft Report only see one 49ers draft pick making a significant mark in 2016.
First Round – DeForest Buckner, DL (Oregon, No. 7 overall)
A "tall drink of water" at a shade over 6:07, Buckner entered the 2015 bowl season having produced 225 tackles (104 solos) that included seventeen sacks (eleventh on the school career-record chart) for -118 yards. His 34.5 stops-for-loss ranked ninth in Oregon history, good for losses of 154 yards. Additionally, he registered thirty quarterback pressures, with six of those hurries causing interceptions, as Oregon converted those turnovers into touchdown drives. He also caused three fumbles and recovered two others that led to Ducks scores.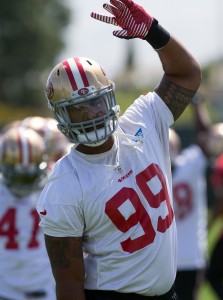 Buckner has outstanding size and a developing frame, adding fifteen pounds of solid muscle mass to it during the 2015 off-season. He has a solid upper body frame, with a wide back, long arms, good lower body strength and room on his frame for additional growth. He has broad shoulders, good bubble, thick thighs and a tight waist. He has a very long torso, arms and legs. A well-proportioned athlete with good upper body muscle development, he has good shoulder size and width, large hands, good bubble, thick thighs, and calves.
The Oregon standout has incredible moves off the edge and can change direction immediately. Buckner shows very good hip strike on contact and is a normal strider who plays with leverage and above average body quickness. He has the burst to penetrate and balance much like a linebacker. Buckner can be an "elephant" (hybrid rush end/linebacker) or just a tenacious defensive end with a high motor and excellent intensity.
From a sheer strength point, Buckner has more natural power than you would expect. He generates a good jolt in his hips and hands to rock the offensive tackle back on his heels during the bull rush. He has more than enough speed and explosion to get an edge. Despite his size, he is stronger than he looks, as he plays with leverage and keeps his pads down, making it tough to block him head-on. He rarely ever gets washed by some down blocks, as he can simply overpower his opponent when heading up the gut (see 2015 Washington, California, Arizona State, and Stanford games). He is best coming off the edge, but he has that long reach and strong hand punch to play off the offensive tackle and quickly locate the ball in backside pursuit. In 33 games of film view, he has never been widened or steered away from the play in any phase.
Last season, Buckner honed his wrap-up tackling technique and became more explosive in that area. The 6'7″, 287 pound athlete is fun to watch as he stalks, chases, wraps, and drags down the ball carrier, as he looks like a spider engulfing the ball carrier to get a piece of the opponent's body. When he is closing on the quarterback, he shows even more explosion. He is best in open quarters, but he has more than enough power to battle in-line.
As a rookie, Buckner is being slotted in as a starting defensive end in the Niners' 3-4 alignment. With 2015 first-round pick Arik Armstead at the other bookend and 26-year-old Quinton Dial in the middle, this is a young defensive line that will grow together. Expect Buckner to impress right out of the gate and show the world why he was a Top 10 pick in this year's draft.
Dave-Te Thomas owns and operates The NFL Draft Report, a service providing insight to league scouting departments for over 40 years. All year round, you can read Thomas' in-depth reviews of both blue chip prospects and diamonds in the rough by visiting the NFL Draft Report blog.
Photos courtesy of USA Today Sports Images.
Follow @PFRumors