The Patriots have signed suspended and injured defensive end Rob Ninkovich to a one-year extension, as Ben Volin of The Boston Globe tweets. Ninkovich is now effectively playing on a two-year, $4.27MM deal, and the extension will save him approximately $117K in suspension-related fines. Ninkovich, already slated to miss several weeks to start the season after suffering a torn triceps injury, was suspended four games earlier this month for a violation of the league's policy on performance-enhancing drugs.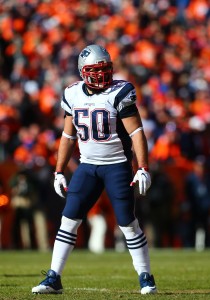 Ninkovich has been a boon to the New England pass rush during his tenure with the club, racking up at least 6.5 sacks per year since the 2011 season. The extension therefore helps the club ease some of the financial strains Ninkovich will face as a result of his suspension while keeping one of its more important defensive players under club control for 2017 at a reasonable rate.
The Patriots also restructured Devin McCourty's contract on Friday, according to Volin (via Twitter). The team converted $3.74MM of McCourty's base salary into a signing bonus, thereby creating $2.8MM of cap space in 2016. As a result, Volin tweets, the team adds a fairly palatable $935K to McCourty's cap number for each of the 2017-19 seasons.
McCourty signed a five-year $47.5MM deal last March as the top safety on the free agent market, but he started his professional career as a corner. The Rutgers product excelled at that position in 2010, his rookie season, grading as the league's seventh-best CB that year, per Pro Football Focus' advanced metrics. However, even though he remained effective against the run in 2011, his coverage grade lagged and he dropped to 57th on PFF's cornerback rankings.
In 2012, therefore, he began splitting his snaps between corner and safety, and he was named an All-Pro safety in 2013. He has remained a stalwart at that position ever since. Prior to reworking the contract, the Patriots had a little more than $6.5MM in cap room (per OverTheCap.com), so they did not necessarily need to create more space, but the move does give the club a bit more of an operating budget for 2016.
Ninkovich will have a cap hit of $4.77MM this season after this new deal, giving the experienced Patriot a $367K increase from the previous '16 figure, Jeff Howe of the Boston Herald reports. As for 2017, Ninkovich's cap hit will be $2.25MM ($1MM base salary). The deal includes a $400K roster bonus ($25K per game), according to Howe. Ninkovich's $1MM base for 2017 is guaranteed.
All in all, Ninkovich can earn up to $3.5MM in new money as a result of this extension, which Howe reports was signed on Monday. He'll receive a $1.5MM signing bonus as well.
Photo courtesy of USA Today Sports Images
Follow @PFRumors