The Jets are off to an awful start this year and there's no guarantee that things will get better anytime soon. Still, owner Woody Johnson says that he isn't about to do anything drastic and he tells Ian Rapoport of NFL.com that the jobs of coach Todd Bowles and GM Mike Maccagnan aren't in jeopardy.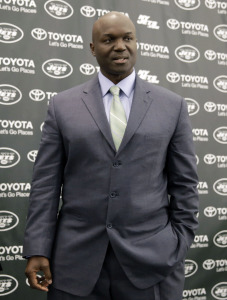 [RELATED: Jets To Start Geno Smith, Bench Fitzpatrick]
"We got ten games to go. I'm very confident with Todd Bowles and Mike," Johnson said unequivocally. "I think we've got an excellent team (of leaders). I really respect Todd, I know he's doing what he's going to do. It's football. He's a good coach. I have long-term confidence in him and in Mike and in their teams. That's the way I feel. Onward and outward, we've had a tough schedule, it's no excuse. We've been in some games. But Monday night was … we gotta be better than that."
The Jets, of course, are coming off of an embarrassing Monday night loss to the Cardinals. That loss marked their fourth-straight defeat and a playoff berth seems rather unlikely for this year. The Jets will have to forge ahead without star receiver Eric Decker and Ryan Fitzpatrick's struggles have led them to turn back to Geno Smith. Things are bad for Gang Green, but they're not ready to blow everything up.
Bowles and Maccagnan, who are both highly-regarded in the league, are both in their second season with the Jets.
Follow @PFRumors