San Diego citizens resoundingly disapproving Measure C on Tuesday sent a clear signal to the city's desire for public funding to go toward a Chargers downtown stadium. Although the Chargers are currently leaning toward playing 2017 in San Diego, their long-term future seems to point toward Los Angeles.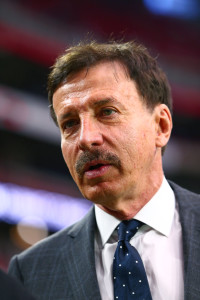 The Chargers and Rams have agreed in principle on a deal to share a stadium in Inglewood, Calif., reaching that agreement fairly quickly after the Rams received the vote to relocate. But doubt has emerged on the teams following through on striking an official deal, Mike Florio of Pro Football Talk reports. The concern resides at the league level regarding the teams' ability to share a market and rebuild the Los Angeles fanbase. Rumors have not tabbed Stan Kroenke as being particularly enthusiastic about sharing the coveted market.
For the Rams, that's a more natural fit given their history as the city's longest-tenured occupant (1946-94, 2016). The Bolts, though, played in L.A. in 1960 before quickly moving to San Diego to begin their second year of existence. A move back, from a pure fan-interest standpoint, would be puzzling, even if it's been long-rumored. The Chargers do not possess a top-flight team, having failed to win 10 games in a season since 2009 and would be the second franchise arriving in a market that was dormant for 21 seasons. It's difficult to see the interest spawning immediately, especially if San Diego-based Chargers fans are reluctant to support a nearby team that left the city.
Nevertheless, the Bolts' stadium measure failing on this level — it received 43.1 percent of the vote when a two-thirds majority was required — points them out of town. But Dean Spanos potentially keeping his team in San Diego in 2017 would allow the clock to expire on the NFL's initial agreement, which gives the Chargers until Jan. 15 of next year to move before the Raiders receive that opportunity. An extension on this agreement seems likely, but the Raiders' complex path to Las Vegas complicates this.
"If Dean stays, it's not because he thinks he can get a stadium in San Diego," one ownership source said, via Jason La Canfora of CBSSports.com. "It's just because he doesn't want to take the deal in Inglewood."
Spanos' franchise having suffered two stinging defeats regarding a stadium in 2016 lead owners to believe he will relocate to L.A., per La Canfora, with no stealth plan existing to make everyone happy in San Diego. Sources told the writer the Inglewood arrangement would be one Spanos is willing to live with, regardless of the team delaying a move as long as it can.
The Chargers putting a new proposal on a future ballot would give the team more of a chance to find a workable solution for the city since this one came about rather quickly. But unless a California Supreme Court decision results in the super-majority requirement being again reduced to the 50 percent threshold at which Measure C was previously set to face, the Bolts may not have a better option than joining the Rams in Los Angeles. Otherwise, it will mean continuing to play at a 49-year-old stadium they've long since resented.
Photo courtesy of USA Today Sports Images.
Follow @PFRumors