Suspended Cowboys linebacker Rolando McClain wants to return to the team, a source tells Brandon George of The Dallas Morning News. However, it doesn't necessarily sound like the team wants him back.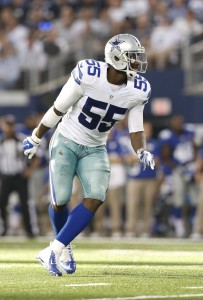 Cowboys owner Jerry Jones has left the door open to the possibility of McClain playing this season. Meanwhile, coach Jason Garrett seemed to have a different take on things when asked about the troubled linebacker today.
"We're just focused on the players that we have here," Garrett said, adding that he hasn't had any contact with McClain while he's been suspended.
It's also noteworthy that the Cowboys have not kept a locker for McClain at their facility, even though they did keep one for Randy Gregory. The 8-1 Cowboys are likely concerned about McClain's conditioning and also worried about how his attitude could potentially hurt the positive locker room atmosphere.
"The best thing this team has done is just limited and eliminated the distractions," tight end Jason Witten said Thursday, not specifically referencing any one player. "And that's for everybody and we've got to continue to do that."
A source familiar with McClain told George that he has overcome his well-publicized "purple drank" problem and has been working out on his own. A source also indicated the Cowboys are "certainly open" to McClain returning, though it's hard to peg whether he could play this season. McClain, 27, is scheduled for free agency in the spring.
Photo courtesy of USA Today Sports Images.
Follow @PFRumors