Following another subpar outing from Blair Walsh on Sunday, the Vikings may be in the market for a kicker. According to Chris Tomasson of TwinCities.com, coach Mike Zimmer didn't rule out replacing the slumping kicker. The reporter tweets that the team has yet to make a decision regarding the position, although he notes that the coach is set to meet with general manager Rick Spielman on Monday evening.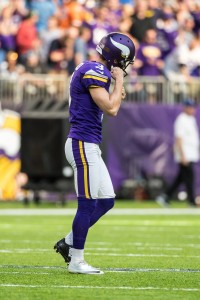 "We're going to see what all the options are," Zimmer said. "We're going to see what the options are at kicker and then make a determination and go."
Walsh, a five-year veteran, missed another extra point during this past weekend's loss to the Redskins. This came a week after the team worked out six kickers, including Kai Forbath and Randy Bullock. Ultimately, the team decided to stick with Walsh.
"I knew how he would react," special-teams coordinator Mike Priefer said (via ESPN.com's Ben Goessling). "It kind of lit a fire under him. He got ticked off in a good way, I think, because he's a competitive young man. When you bring in guys that are potentially going to take your job, guys that want your job, that's the way you want him to react. If he didn't react that way, I would be really worried, and we probably would be looking for another guy. He got — I don't want to say angry, but he got a little fired up in a very respectful way, just like he always is. I expect him to go out and kick well for us this weekend and the rest of the year."
The Vikings coaching staff's patience is undoubtedly wearing thin. Walsh's struggles began during last season's Wild Card round, when he missed a field goal that could have given his team the victory. The former Pro Bowler's struggles have carried over to this season, as Walsh has only connected on 75-percent of his field goals and 15-of-19 extra point attempts. For comparison's sake, the 26-year-old made 87-percent of his field goal attempts in 2015.
Follow @PFRumors