It seemed nearly impossible one month ago, but Randy Gregory is now slated to suit up for the Cowboys as the regular season winds down, Ian Rapoport of NFL.com tweets. As previously reported, Gregory will practice this week. Barring league interference, Rapoport hears that he will play this week against Detroit.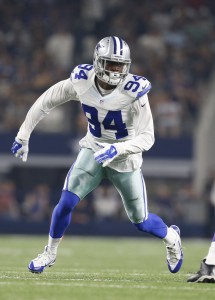 [RELATED: Tony Romo May Request Release In 2017]
Still appealing a one-year ban, Gregory has been given the green light to participate in team activities while things get sorted out. While some fans have grown impatient with Gregory's off-the-field troubles, owner Jerry Jones has been steadfast in his support of the defensive end.
"I, of course, know the details of his situation, and I can't and I won't comment on details about it," Jones said. "But I am not giving up on Randy Gregory for the Cowboys and certainly not giving up on him as a person in life — at all. Not that it makes any difference that I do, but I do not dismiss him from our future."
The Cowboys are now 12-2 after topping the Buccaneers on Sunday night. Dallas has clinched a playoff berth and they now have their sights set on locking down the NFC East. With one win in the final two games, they'll shut the door on the Giants. According to Five Thirty Eight, the Cowboys have a 97% chance of winning the NFC East at this point.
Photo courtesy of USA Today Sports Images.
Follow @PFRumors