The Dolphins blew the Jets out of the water last night behind a terrific performance from backup quarterback Matt Moore, but the aftermath of the win brought with it some potentially bad news about No. 1 signal-caller Ryan Tannehill.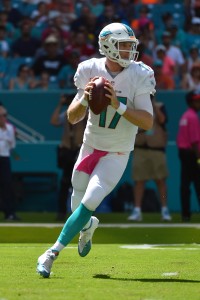 Tannehill, of course, was pulled from last week's game against the Cardinals with what was initially feared to be a full ACL tear, but which was later reported to be an ACL/MCL sprain (a partial, but incomplete tear of those ligaments). After last night's game, however, Adam H. Beasley and Armando Salguero of the Miami Herald passed along a report from the NBC/NFL Network broadcast team that Tannehill in fact tore the MCL off his knee completely, a report ostensibly substantiated by the fact that he spent the night in a full leg cast and walked with a noticeable limp and the assistance of a crutch.
Tannehill, though, lent some clarity to the situation, observing that his ligaments are not fully torn and that he has a Grade 2 sprain rather than a Grade 3 (link via Salguero). Said Tannehill, "It's not a Grade 3. A Grade 3 sprain is completely torn. A sprain could be a torn anything. It's not completely torn all the way off but definitely there's damage. It's categorized as a Grade 2 so there's still some integrity there."
That is consistent with this week's earlier reports, and it explains why Tannehill is hopeful that rehabilitation and muscle strengthening will return enough stability to the knee to rule out the need for surgery. Salguero does note, however, that reconstructive surgery remains a distinct possibility, which Ian Rapoport of NFL.com confirms (
Twitter
links
). Rapoport adds that, despite Miami's optimism, Tannhill is "very uncertain" to return to action this season.
With last night's win, the Dolphins assured themselves of a winning season and, more importantly, maintained control of their own playoff destiny. While a division title is a remote possibility, Miami can grab a wild card spot by winning their final two games against the Bills and Patriots.
Photo courtesy of USA Today Sports Images.
Follow @PFRumors