Eagles offensive tackle Lane Johnson continues to contest the 10-game suspension the NFL handed him back in August for violating its policy on performance-enhancing substances. Johnson has filed a suit in federal court against both the league and the NFLPA, according to Albert Breer of TheMMQB.com (Twitter link). The 26-year-old wants the court to vacate his penalties.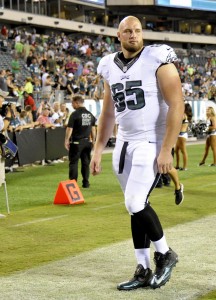 This is the next step in a long fight for Johnson, who unsuccessfully appealed his ban earlier in the season and sat out from mid-October until early December as a result. Not only did the suspension cost Johnson most of the season, but he also lost 10 weeks of his $675K base salary and $1.5MM of his $10MM signing bonus. Worse, it voided the $25MM in guarantees remaining on Johnson's contract. He'll still be able to earn that money, but he'll have to do it on a year-to-year basis if the court doesn't rule in his favor.
Between the failed appeal and Friday's decision, Johnson elected in November to file charges against both the league and the union with the National Labor Relations Board. He also filed a claim against the NFLPA with the Department of Labor.
"During Lane's appeal, it became apparent that the written words in the collectively bargained Performance-Enhancing Substances ("PES") Policy, under which Lane was disciplined, are meaningless," attorney Steve Zashin stated at the time. "The PES Policy, as written, guarantees rights, protections and due process to players in recognition of the enormous consequences of discipline. The NFL and the NFLPA have undermined these protections leaving the players -including Lane — with a hollowed-out process devoid of any protections. The actions of the NFL and NFLPA violate federal law."
Johnson maintains that he unknowingly took a tainted amino acid, which led to the failed drug test over the summer, and has argued that the NFLPA's Aegis Shield app did not flag the supplement he took. He's also irked that only two arbitrators handled his case, which seemingly violates the league's collective bargaining agreement. According to the CBA, three to five arbitrators should've been assigned. Zashin reiterated that Friday and added that one of the arbitrators was affiliated with the league, creating a conflict of interest (Twitter link). While Zashin didn't name the arbitrator, he was alluding to James Carter, who oversaw the league's Ray Rice investigation in 2014.
Notably, the suspension Johnson served in 2016 wasn't his first. He previously sat four games in 2014 after testing positive for PEDs.
Photo courtesy of USA Today Sports Images.
Follow @PFRumors