In advance of March 9, the start of free agency in the NFL, Pro Football Rumors will detail each team's three most glaring roster issues. We'll continue this year's series with the Atlanta Falcons, who capped off an 11-5 season with a Super Bowl appearance that ended in devastating fashion.
Pending Free Agents:
Top 10 Cap Hits for 2017:
Other:
Three Needs:
1. Fortify right guard: For the most part, the Falcons' offensive line was a strength in 2016. While the unit ranked just 23rd in adjusted sack rate, Atlanta's front five placed tenth in adjusted line yards and was named the sixth-best offensive line in the league in Pro Football Focus' year-end rankings. The club has certainly invested in its line, using a first-round pick on left tackle Jake Matthews, spending heavily in free agency to land center Alex Mack, and rewarding a formerly anonymous undrafted free agent — right tackle Ryan Schraeder — with a multi-year extension.
Indeed, every one of Atlanta's offensive lineman graded out as a starting-caliber player, according to PFF, with the exception of veteran right guard Chris Chester, who ranked as the No. 56 guard among 72 qualifiers. Chester is scheduled to hit the open market next month after his one-year deal expires, so the Falcons won't have to worry about the prospect of incurring dead money if forced to release him. Instead, the team has the option of simply letting him walk, and given that Chester is entering his age-34 season, the Falcons should do just that.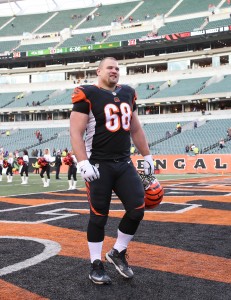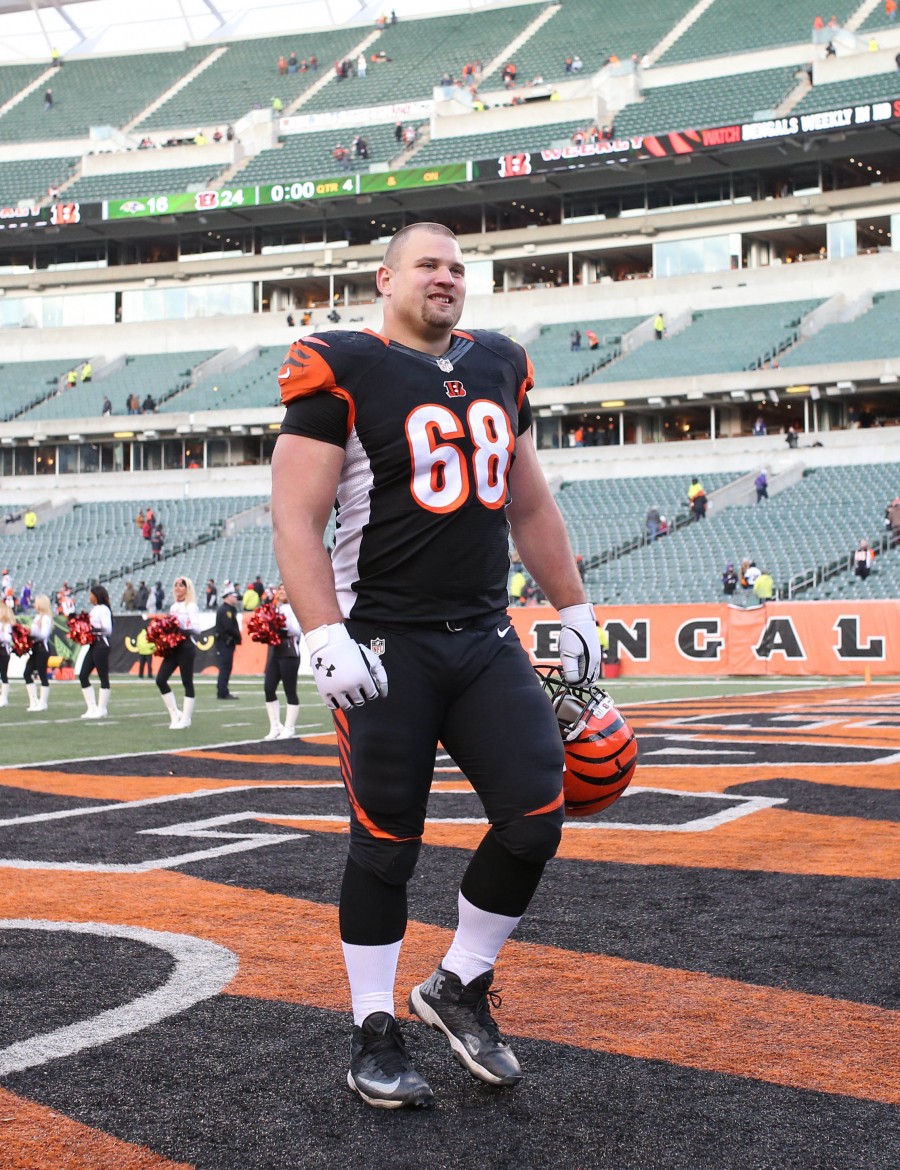 Atlanta doesn't have a ton of cap space (ninth-least in the NFL), but it also doesn't have a ton of needs. As such, it's fair to wonder if general manager Thomas Dimitroff & Co. will target a top-notch guard right out of the free agent gate, adding a new player that could transform the Falcons' offensive line into a truly elite unit. And while the free agent tackle and center markets are relatively barren, the list of available guards should intrigue Atlanta.
Kevin Zeitler, 26, looks to be the top guard headed for free agency, and appears increasingly unlikely to return to the Bengals. If he does reach the open market, Zeitler figures to be in for a massive payday. Even though right guards typically earn less than their left side counterparts, Zeitler should be able to blow past the $10MM averages landed by Kyle Long and David DeCastro, especially since each of those players inked extensions, not free agent pacts. Zeitler, who ranked as PFF's No. 7 guard, would immediately convert Atlanta's offensive line into one of the best units in the league.
Though he may represent the best option, Zeitler is far from the only interior lineman the Falcons could go after. The Packers' T.J. Lang placed just one spot behind Zeitler in PFF's rankings, and given that he's more than two years older than the Bengals free agent, could come at a much cheaper cost. Green Bay prefers to retain its own free agents, but it hasn't placed much emphasis on the interior of the offensive line lately, as evidenced by their surprising 2016 release of Josh Sitton. Fellow Packer J.C. Tretter, the Lions' Larry Warford, and the Cowboys' Ronald Leary could also catch the eye of Atlanta this offseason.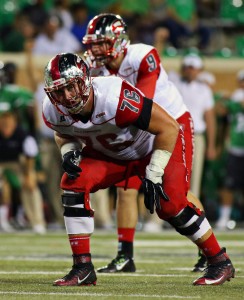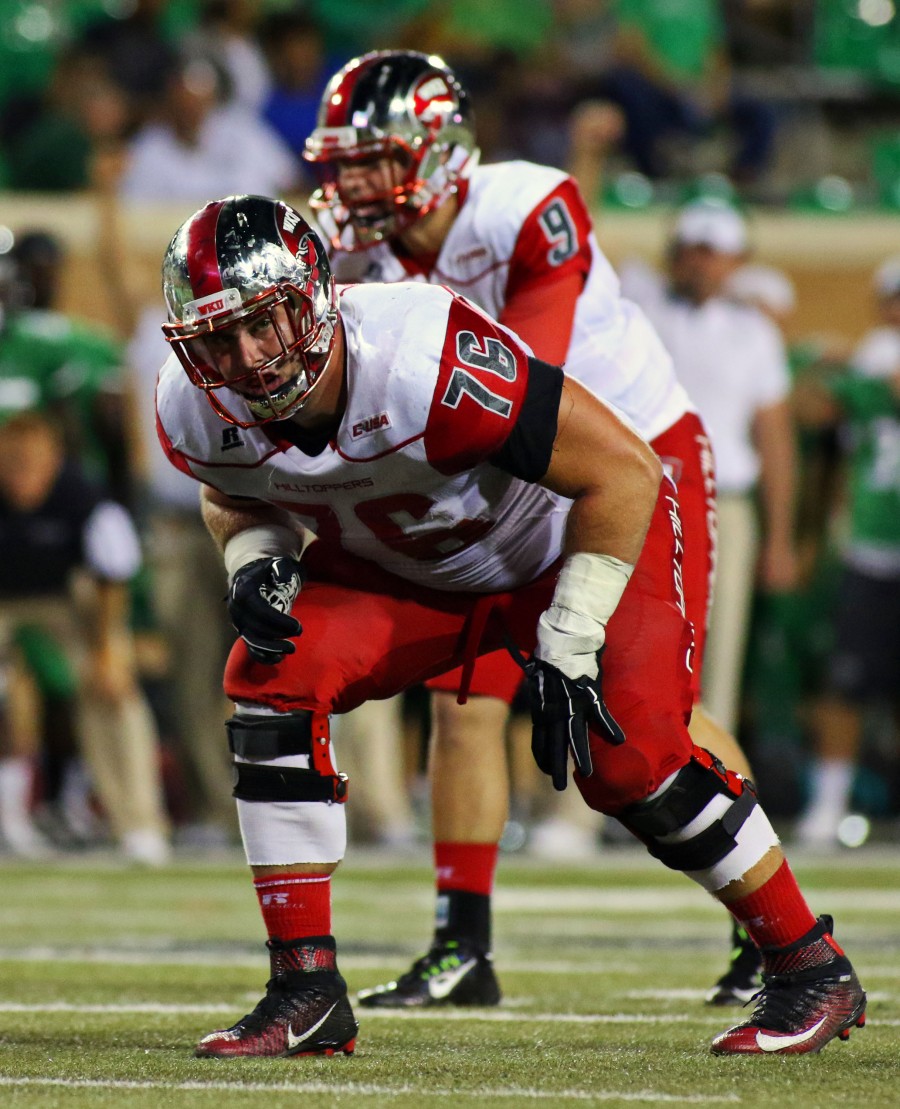 If the Falcons want to conserve their limited cap space for other position upgrades, they could instead target guard help in the draft. This year's crop of prospects is thought to be short on offensive lineman, so Atlanta may want to use their first-round pick (No. 31 overall) on a guard lest in miss out on interior help later in the draft. Western Kentucky's Forrest Lamp looks like the best guard available in 2017, and Dane Brugler of CBSSports.com favorably compares Lamp to the Cowboys' Zack Martin, who — like Lamp — played tackle in college before moving inside in the pros. Dan Feeney (Indiana), Dorian Johnson (Pittsburgh), and Nico Siragusa (San Diego State) are among the other guards the Falcons could consider on Day 1 or 2.
2. Add to the defensive line: 2016 first-round pick Vic Beasley broke out during his second season playing defensive end for the Falcons, leading the league in both sacks (15.5) and forced fumbles (six). Veteran Dwight Freeney, once again relegated to a late-summer signing, contributed off the edge, while young players such as Grady Jarrett and Ra'Shede Hageman shined down the stretch.
Atlanta's defensive line figures to see some upheaval in 2017 under new coach Bryant Young, however, as Jonathan Babineaux could walk during free agency (or, at age 35, consider retirement), while fellow interior lineman Tyson Jackson will likely be designated as a post-June 1 release, a move that would save the Falcons more than $4MM in cap space. Returning members of the line include Brooks Reed, Adrian Clayborn, and Derrick Shelby (who missed the majority of season with injury), but overall, Atlanta's front four can be labeled as something near the middle of the pack.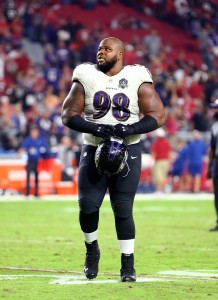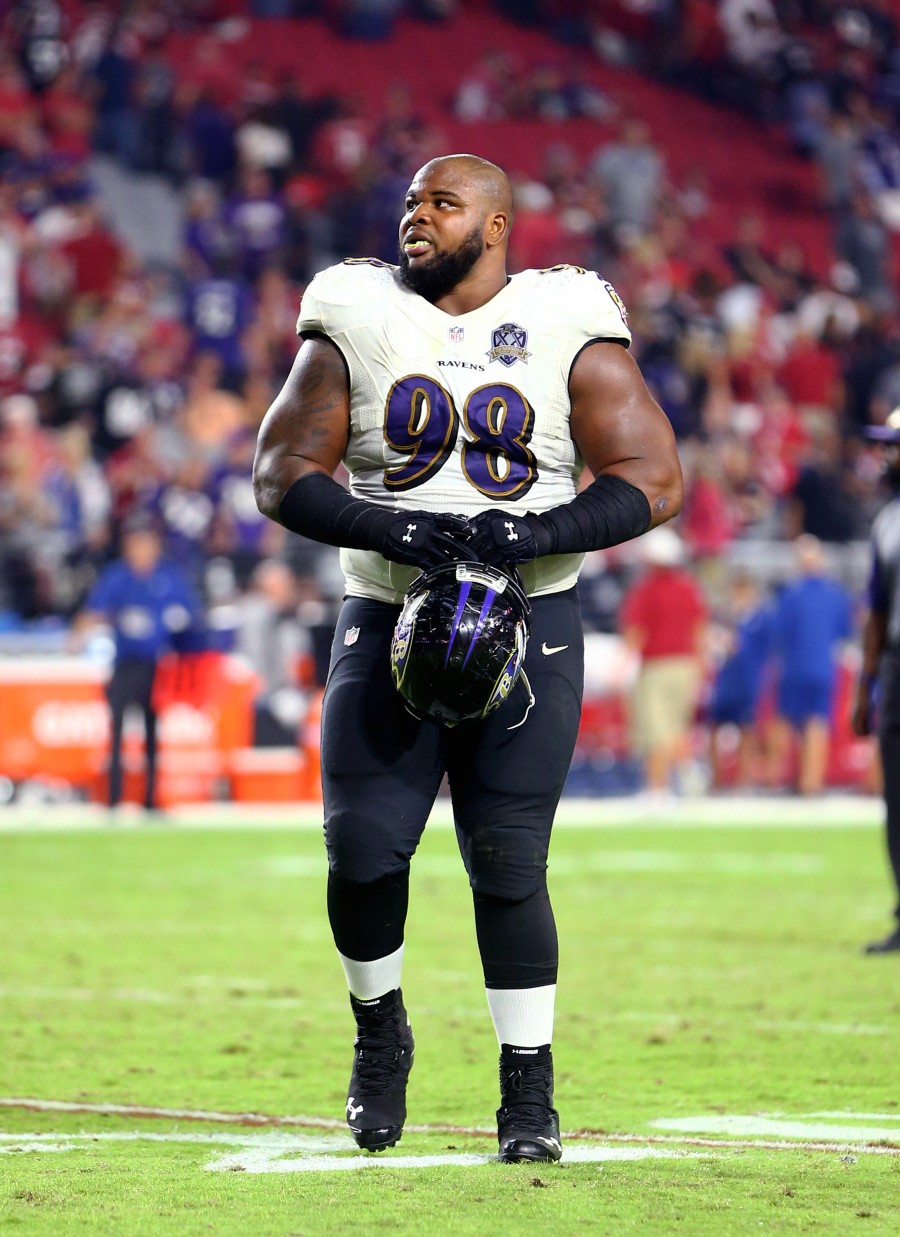 Reinforcing the defensive line by placing another big body in the middle should be a priority for the Falcons this offseason, and if the club doesn't spend its available funds on a guard, it could look to free agency to find another defensive tackle. Brandon Williams fits Atlanta's needs like a glove, and while he could plug up holes and help Falcons linebackers Deion Jones and De'Vondre Campbell get free, the Ravens are prioritizing Williams, so he might not even reach free agency. Chris Baker, meanwhile, is a little older than Williams, but given that the Redskins are "lukewarm" on retaining him, Baker could be more available to Atlanta. Dontari Poe and Johnathan Hankins represent other expensive tackle options, while John Jenkins, Stephen Paea, Sylvester Williams, and Glenn Dorsey will come at a lower cost.
Alternatively, if the Falcons are confident Jarrett and Hageman will continue to grow, the club could instead choose to add another elite pass-rusher to play opposite Beasley. The top free agent edge player, Arizona's Chandler Jones, is extremely unlikely to hit the market, as the Cardinals will franchise Jones if no long-term deal is reached. The Chargers' Melvin Ingram could see a similar fate, but he'd be a worthwhile investment for Atlanta if he does reach free agency. If the Falcons do sign one of the top-notch pass rushers, they likely won't be able to make any other significant moves this offseason. Datone Jones and DeMarcus Ware could also be on the Falcons' radar, and the team should also take a look at re-signing Freeney for one more go-round.
At the tail end of the first round of the draft, Atlanta is in prime position to pick up any defensive linemen that may fall come draft day. Michigan State's Malik McDowell, for one, was viewed as the top interior lineman available for much of the winter, but Eric Galko of the Sporting News recently reported that clubs have character concerns about McDowell based on his effort level and poor attitude. Those worries could cause McDowell to tumble down draft boards, but perhaps the Falcons feel their strong veteran locker room could be a safe landing spot for the former Spartan.
Florida defensive tackle Caleb Brantley never played under Young or Dan Quinn (a former Gators defensive coordinator) in Gainesville, but the two coaches could potentially have an affinity for players that come out of UF based on their professional history. Meanwhile, Daniel Jermiah of NFL.com and Josh Norris of Rotoworld each sent defensive lineman to Atlanta in their most recent mock drafts, with the scribes mocking Takkarist McKinley (UCLA) and Jaleel Johnson (Iowa), respectively, to the Falcons.
3. Lock up the roster's core: The Falcons are something of a "stars and scrubs" roster, relying less on depth than on a small number of elite players at the top of the depth chart. It's not necessarily a poor approach to team-building, and it's a strategy that worked in 2016 as evidenced by Atlanta's Super Bowl run. But it does mean the Falcons need to work quickly to hammer out extensions with their core talent.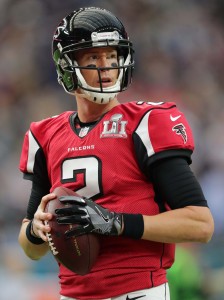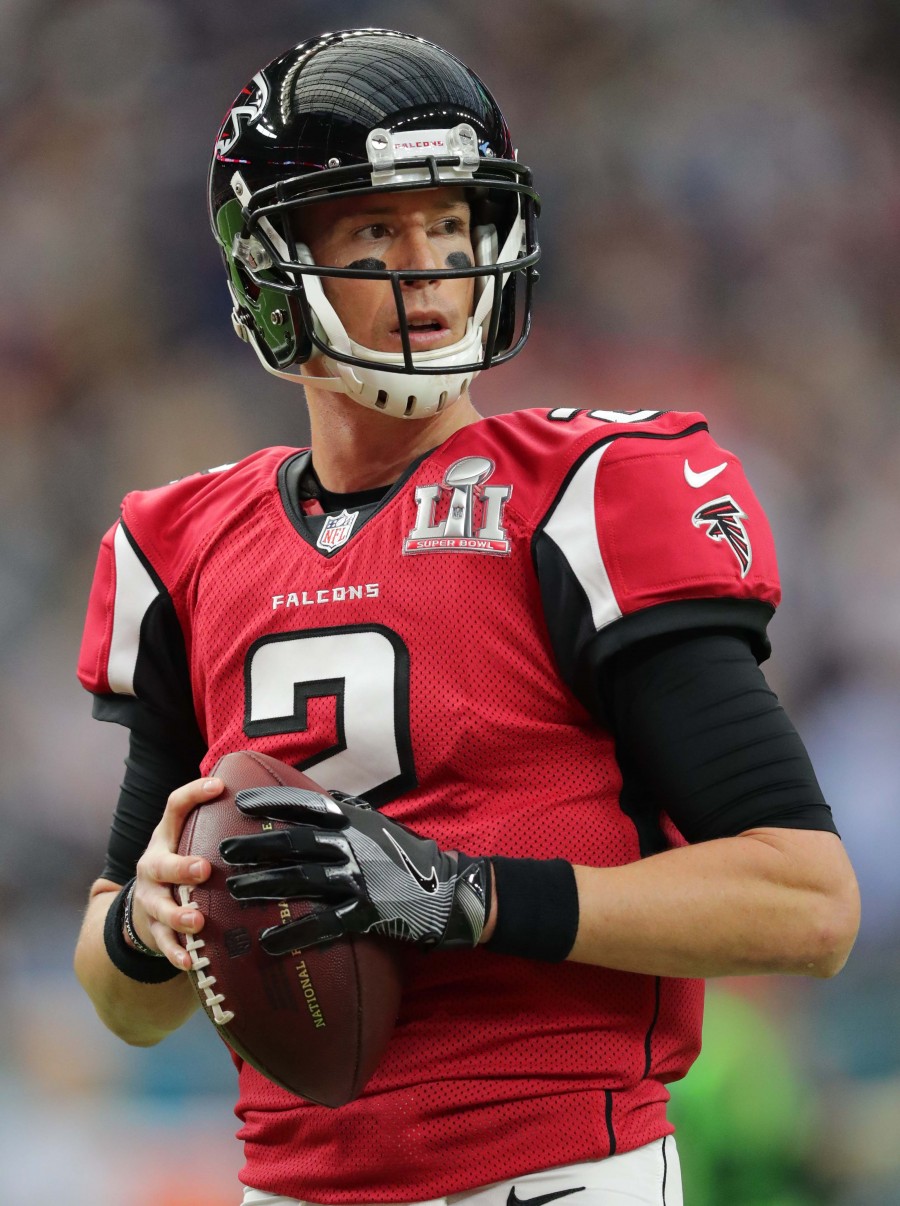 That list begins, naturally, with quarterback Matt Ryan, who is signed through 2018 with cap charges north of $21MM in each season. Falcons owner Arthur Blank has already confirmed his club will attempt to extend Ryan this summer, and a new deal could potentially make Ryan the highest-paid quarterback in the league. The Colts' Andrew Luck currently holds that honor on a per season basis, with a yearly salary of $24.594MM. Ryan, 31, has a cap hit of $23.75MM in 2017, and a long-term deal could actually lower that cap hit by folding guarantees into a prorated signing bonus.
Elsewhere on offense, running back Devonta Freeman is in line for a new contract after earning his second consecutive Pro Bowl in 2016. The 24-year-old Freeman is said to be looking for "elite" money, but as Zach Links noted in Monday's PFR chat, a "definite limit" exists among running back contracts, so despite Freeman's demands, he's not going to reach a double digit annual salary. Atlanta's front office says it's "on the same page" with Freeman's agent, and the two sides could eventually agree to a pact that pays in between Doug Martin's $7.15MM and whatever Le'Veon Bell earns through a potential new deal with the Steelers. Freeman will earn roughly $1.8MM in 2017 thanks to the NFL's proven performance escalator.
General manager Thomas Dimitroff has also been adamant Atlanta will sign cornerback Desmond Trufant to a long-term deal, noting the fifth-year pro is a "very valuable asset." Trufant, 26, will earn $8.026MM during the 2017 campaign under the terms of his fifth-year option before becoming a free agent in the spring of 2018. Although he missed the Falcons' final six regular season games (and the club's postseason run) with a pectoral injury, Trufant ranked as a top-15 cornerback as recently as 2015, per PFF. Trufant pushed for an extension last summer, and now that he looks to poised to cash in, he'll likely keep a close eye on free agent pacts signed by fellow CBs Trumaine Johnson, A.J. Bouye, and Stephon Gilmore in the coming weeks.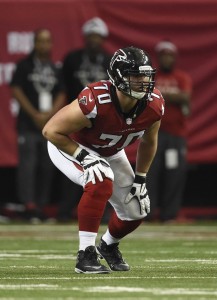 Finally, the Falcons could take a look at extending left tackle Jake Matthews, who will soon be locked up through the 2018 campaign after Atlanta makes the easy decision to exercise his fifth-year option. Matthews took a small step back during his third NFL season, as he ranked as only the No. 36 tackle in the league, according to PFF. Still, he's only 25 years old and has flashed elite level talent in the past, so the Falcons could be smart to ink Matthews to a new deal now before his value rises again. Recent $12MM per year contracts signed by fellow left tackles David Bakhtiari, Cordy Glenn, and Eric Fisher could serve as the basis for talks between Matthews and Atlanta management.
Photo courtesy of USA Today Sports Images.
Follow @PFRumors