Currently saddled with one of the thinnest quarterback depth charts in the league, the Jets reportedly aren't rushing their decision on which veteran they decide to bring in to presumably deploy as their latest stopgap option after Ryan Fitzpatrick's exit.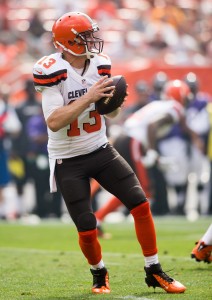 They brought in Josh McCown for a visit this weekend and reached out to Jay Cutler earlier this week. That interest being mutual, it's reasonable to expect Cutler to make a trip to meet with the Jets soon. Despite being linked to the polarizing passer via trade last year, Gang Green has reportedly closed the door on a Colin Kaepernick union to further limit their options.
However, it's clear the Jets intend to sign at least one veteran to serve as a bridge player while they continue to evaluate Bryce Petty and Christian Hackenberg. It's not expected New York will draft a quarterback with its first-round pick, having taken Hackenberg in Round 2 last year. Although, if the Jets don't see what they like out of the current market, it's conceivable the rebuilding outfit could turn the reins over to Petty to continue an audition that an injury interrupted in 2016. However, the team is not believed to have much faith in either incumbent at this time.
Cutler is a higher-end talent than McCown but is coming off a rough 2016, which turned out to be a contract year since the Bears made him a first-time free agent. Once traded for two first-round picks, Cutler is probably the best quarterback available on the UFA market. He will turn 34 next month, but McCown will be 38 by the time Week 1 begins in September. McCown also served as Cutler's backup for three seasons in Chicago. As recently as 2015, Cutler finished with a career-best 92.3 quarterback rating. He threw 21 touchdown passes and 11 interceptions during his one season in Adam Gase's offense. A 2008 Pro Bowler, Cutler threw for 28 touchdown passes in 2014. Only two Jets passers — Fitzpatrick and Vinny Testaverde — have matched such a showing in a season. But the 12th-year player carries considerable baggage at this point.
McCown played reasonably well with the 2015 Browns, completing 63.7 percent of his passes for a team devoid of much talent. But he missed most of last season due to injury and struggled for the 2014 Buccaneers. Since being given additional opportunities by multiple teams after a solid small success sample on the 2013 Bears, McCown has a 2-20 record as a starter over the past three seasons. He would be an upgrade over Petty and Hackenberg in the short-term but might not make a ton of sense for a team that just axed several veterans and doesn't have much in the way of pass-catching talent presently, especially with Eric Decker's status uncertain. McCown, though, wouldn't command the kind of per-year salary Cutler likely would.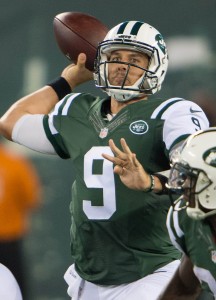 Gang Green could pursue other options like Chase Daniel or Case Keenum, but the talent pool is thin at this juncture. The Jets bowed out of the Mike Glennon race due to his $15MM-per-year price tag and saw Geno Smith — considered a fallback option as a starter — sign with the Giants. Robert Griffin III wants to play for the Jets, but the team might not have the same interest it did last year after RG3's uninspiring Browns season continued a steady descent.
For a team that is not likely to contend in 2017, throwing Petty or Hackenberg into the fire would make sense if the Jets believe either can be a medium- or long-term answer. But that doesn't appear the case.
Tony Romo's eventual decision (or the Cowboys', in the event of a trade) could open the door to a possible Trevor Siemian/Jets setup. The team would be interested in acquiring the Broncos' 2016 starter via trade if Romo ends up in Denver, but conflicting reports have emerged on whether or not the Broncos would unload him. Siemian has two years remaining on a seventh-round rookie deal.
So how will the Jets proceed here? Will it be a caretaker like McCown, or will they roll the dice with Cutler? Will Gang Green's search delve deeper into the UFA market and look at a career backup in Daniel? Or will the Jets decide to invest their No. 6 pick in one of the scrutinized rookies? Take PFR's latest poll.
Photo courtesy of USA Today Sports Images.
Follow @PFRumors