Myles Garrett is officially a member of the Browns. The No. 1 overall pick has signed his rookie deal, according to a team announcement.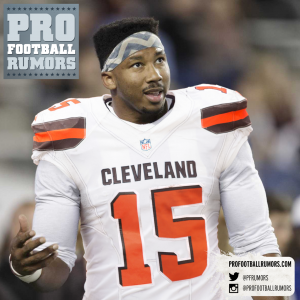 As dictated by his slot, Garrett's four-year deal is worth $30.412MM with a hefty signing bonus of $20.258MM. The rookie will be well-compensated, but he'll also be one of the position's best bargains over the next four years if he is anywhere near as good as evaluators believe him to be. The market for defensive ends is presently sky-high with contracts exceeding $15MM per year for top earners like Muhammad Wilkerson, J.J. Watt, Olivier Vernon, and Jason Pierre-Paul.
The deal includes offset language, a source tells Albert Breer of The MMQB (on Twitter). This means the Browns can save some money if they wind up releasing the No. 1 pick at some point during his rookie deal. In that (unlikely) event, the Browns would get out of some of their obligation if Garrett's signs with a new club. For example, if Garrett has $4MM in guaranteed money left on his contract at the time of his release and he signs with a new club on a $1MM deal, the Browns will only be on the hook for $3MM, with the new team making up the difference.
Garrett was the consensus top prospect in the 2017 draft for months, but the Browns tried to throw the football world a curve by giving some reporters the impression that UNC quarterback Mitch Trubisky was a consideration on draft day. Ultimately, the Browns made the selection that was widely seen as a no-brainer. Garrett is believed to be about as much of a can't-miss prospect as you can get in the draft and all signs are pointing to a Pro Bowl career in his future.
Garrett figures to be a Week 1 starter for the Browns at defensive end with second-year DE Emmanuel Ogbah at the other bookend.
Follow @PFRumors