Rob Gronkowski has a new deal. Gronk's new deal will give him chance to boost this year's salary from $5.25MM to $10.75MM, according to Adam Schefter of ESPN.com (Facebook link). If he's able to reach the maximum value of the deal for 2017, he could wind up as the league's highest-paid tight end. Here are the complete details: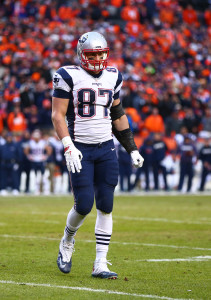 Gronk can max out at $10.75MM if he sees either 90% play time or hits 80 catches or 1,200‪ receiving yards or earns an All-Pro nomination.
He can make $8.75MM if he hits 80% play time or 70 catches or 1,000 receiving yards or 12 touchdowns.
His salary will reach $6.75MM if he achieves 70% play time or 60 receptions or 800 receiving yards or ten touchdowns.
In terms of playing time, the top tier of this reworked contract might be tough to achieve. Gronk reached 84.2% in 2015, but he came in at just 31.5% last year and 70.3% in 2014. He also has not eclipsed 1,200 receiving yards since 2011. Still, Gronk has three First-Team All-Pro nominations to his credit including the 2014 and 2015 seasons. In that 2014 season, he had 82 receptions, so an 80+ catch total is not out of the realm of possibility. Even with the addition of Brandin Cooks, Gronk figures to be a focal point in the Pats' offense.
Gronkowski has pushed for a new contract in the past but was never able to get a bump on the six-year, $54MM extension he signed with the team in the summer of 2012. The Patriots didn't exactly rip up the remaining three years on his pact, but they did tack on some bonuses in a year where he has a tidy $6.75MM cap number.
Gronk's deal calls for an $11MM cap number in 2018 and a $12MM figure in 2019. However, much of that money is non-guaranteed. If Gronk were to suffer another serious injury and the Pats wanted to release him next offseason, they'd only be on the hook for $4MM while saving $7MM against the 2018 cap. Prior to the 2019 season, the breakdown shifts to $2MM of dead money versus $10MM in savings. Ideally, Gronk probably would have liked more long-term security, but today's restructuring is a compromise that keeps both sides happy.
Gronkowski is represented by Drew Rosenhaus.
Photo courtesy of USA Today Sports Images.
Follow @PFRumors