A major deadline is fast approaching for Redskins quarterback Kirk Cousins, Steelers running back Le'Veon Bell, and Rams cornerback Trumaine Johnson. If the three franchise-tagged players do not sign an extension with their respective clubs by 4pm ET/3pm CT, they will play out the season on a one-year tender and will not be able to reignite long-term talks until January.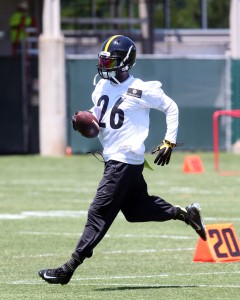 So far, there hasn't been significant movement towards a deal for any of the three players in question, though Bell is more likely to sign a multi-year pact than the other two. Then again, after last year's deadline brought us a surprise accord between the Jets and Muhammad Wilkerson, nothing can be ruled out.
The Redskins have slowly upped their offer to Cousins over the last year, but a major gulf still divides the two parties. Cousins' agent is said to be seeking $24MM annually on a new deal, a number reflective of his ~$24MM tender for 2017. The Redskins, meanwhile, have only offered $20MM per season on a five-year pact. The proposal, which was made back in May, only truly guarantees the first two years for Cousins, according to NFL.com's Tom Pelissero. When considering the gap in dollars and the possibility that Cousins would rather be somewhere else long-term, it seems likely that the QB will play out the year on his tender.
On Monday morning, we heard that there was nothing imminent between the Steelers and Bell. Still, a long-term deal makes plenty of sense for both sides. Bell's camp is aware of the injury risk that running backs carry and they would certainly forego some upside in favor of security. The Steelers, on the other hand, do not want to chance having to cuff Bell with a one-year, $14MM repeat franchise tender next offseason. Even though there hasn't been a lot of reported progress on a deal in recent weeks, this one feels too logical not to happen.
On the flipside, it would be a shock to see the Rams and Johnson shake hands on a deal this afternoon. Johnson believes that he could be paid like a top cornerback on the open market next spring and unless he turns in a historically spectacular season, there's little chance that the Rams will tag him for a third straight year at $20MM. Instead, Johnson will happily play out the year for $16.742MM and worry about his future next offseason.
Photo courtesy of USA Today Sports Images.
Follow @PFRumors