Before Tony Romo took a job with CBS, he mulled some options in the NFL. The lowly Jets were among those clubs, although they were not his top choice.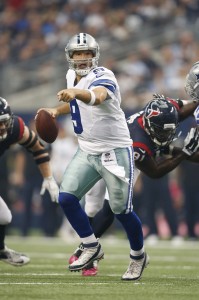 "I took a look at them," Romo said (via Darryl Slater of NJ.com). "I'm not going to say if they were in the final four. But I did take a look. I went through a lot of teams. There was a lot of discussion. I had narrowed the focus to about four teams. From there, obviously, I made the decision to come to CBS. I felt like the opportunity was just too big to pass up."
Romo says he is focused on his new gig in the broadcast booth and he reportedly will only consider an NFL return if Dak Prescott gets injured and he gets a call from the Cowboys. The 37-year-old weighed other options and at least thought about playing in the country's largest media market, but it would have been a shocker if he bypassed one of the league's best broadcasting jobs to play for a team with little chance of making the postseason.
Unable to land Romo, the Jets will forge ahead with veteran Josh McCown as their starter. For what it's worth, Romo applauds the Jets for giving the job to McCown over Christian Hackenberg and Bryce Petty. He also doesn't think the Jets will be as awful as most pundits predict.
"They can be less bad," said Romo. "That [McCown starting] is in the best interest of the team. It's a good thing for them, to send the message to everybody: We're trying to win in Week 1 and this season. The NFL is a very finite thing between being good and bad. They have some pieces. They're a little bit away."
Photo courtesy of USA Today Sports Images.
Follow @PFRumors