Adam Schefter of ESPN.com reports that the league's Compensation Committee will hold a conference call tomorrow to discuss commissioner Roger Goodell's contract extension and Goodell's latest counterproposal requesting a $50MM salary as well as the lifetime use of a private jet and lifetime health insurance for his family. This comes on the heels of a story from Peter King of TheMMQB that Cowboys owner Jerry Jones wants to "overthrow" Goodell.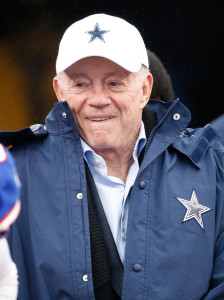 Jones has done his best to hold up an extension for Goodell, which was supposed to be finalized in August. While the general assumption is that Jones became angry with Goodell for the commissioner's suspension of Cowboys star running back Ezekiel Elliott, Jones himself has said that is not the case, and that his problems with Goodell's contract extension as currently constructed has less to do with the commissioner and more with the power of the position he holds.
King's report is largely in accord with Jones' assertions. King says Jones is right in that Goodell's current contract, which pays him around $35MM annually with no performance aspect to it, is "excessive bordering on avaricious." Furthermore, Jones contends that even if the current proposed contract for Goodell is approved — a contract that will make 88% of Goodell's compensation incentive-based — the vague parameters of the incentives will allow Goodell to earn the same salary he has been earning anyway, regardless of the overall performance of the league. So, while Elliott's suspension may have plenty to do with Jones' discontent, it is not the only basis for it (Jones is also displeased with the fact that Goodell seems generally "suspension-happy").
As such, Jones threatened to sue the league in a November 2 conference call, a threat that understandably rankled his fellow owners. King points out that Jones has taken unpopular stances before, and has ultimately prevailed, but this time, he does not have many partners in his struggle to overthrow the current way of doing business in the NFL. Indeed, as Jason La Canfora of CBS Sports writes, Jones is losing credibility with, and influence over, other owners. Although Schefter's report indicates that other owners are displeased with the outlandishness of Goodell's most recent demands, it does not sound as if Goodell will walk away on his own, and it is similarly unlikely that there will be enough owners to force him out.
Interestingly, La Canfora notes in a separate piece that Goodell's confidants and advisers are urging him to simply sign the proposed contract now and put the matter behind him, but King says there is not presently a contract to sign. King reports that the Compensation Committee and Goodell are still cleaning up a few points that go beyond mere formalities — like the private jet, for instance? — and that it could be a couple of weeks before Goodell can put pen to paper.
Presumably, tomorrow's conference call will lend a little more clarity to this story. As of right now, though, it still seems as if Jones is waging a war that he is unlikely to win, and that Goodell will remain the league's commissioner for the long haul (while being handsomely compensated for his efforts, even if a jet is not a part of the package).
Photo courtesy of USA Today Sports Images.
Follow @PFRumors