The Jerry Jones–Roger Goodell feud is starting to look more like the Cowboys owner is taking on the majority of his peers.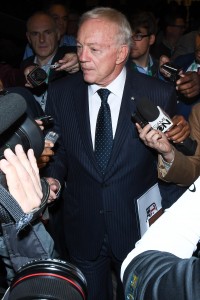 Other NFL owners are expressing a strong sentiment toward the NFL taking disciplinary action against Jones, Mark Maske of the Washington Post reports. While it's uncertain how many owners are behind this, Maske reports some of the league's most influential owners are in favor of Jones discipline.
Jones has threatened to sue the NFL because of, cosmetically speaking, Goodell's contract. However, many owners are upset at the brash decision-maker for making his grievances public. And these owners, Maske reports, believe Jones' actions are solely tied to Ezekiel Elliott's six-game suspension, which the running back is now serving at an inopportune time for the Cowboys.
"Roger will be extended, and Jerry will be dealt with," a person familiar with the owners' sentiments said, via Maske, before adding "It depends on how far (Jones) goes," regarding what kind of discipline will be levied.
Said punishment would ultimately come from Goodell and the owners' management council executive committee. Jones has already been removed from the compensation committee.
The owners do not support Jones being forced to sell the Cowboys and view it as unrealistic, but a fine, suspension or the Cowboys losing draft picks would be in play in this scenario, Maske notes. Some explosive dialogue on Jones' behalf was reported to have occurred recently, with ESPN.com's Don Van Natta Jr. and Seth Wickersham reporting Jones threatened Goodell during a phone call.
"I'm gonna come after you with everything I have," Jones said, via the ESPN tandem. "If you think [Patriots owner] Bob Kraft came after you hard [over Deflategate], Bob Kraft is a p—y compared to what I'm going to do."
Jones is attempting to block a through-2024 Goodell extension, but Van Natta Jr. and Wickersham's report indicates the owners' actions are more about a power struggle than Jones taking issue with the commissioner's contract.
The next set of owners' meetings are set for Dec. 12-13 in Dallas, and Maske notes Goodell's extension could be completed by then. Owners voted 32-0 in favor of a new Goodell deal to be authorized earlier this year. Upon the extension being completed, the league is not planning another ratification vote despite Jones' wishes.
Photo courtesy of USA Today Sports Images.
Follow @PFRumors