Patriots tight end Rob Gronkowski has been suspended for Week 14, the NFL announced. Gronkowski hit Bills cornerback TreDavious White after he intercepted a pass and fell down on his return. The tight end was, surprisingly, not ejected from the game, but he will pay the price for it nonetheless. Gronkowski plans to appeal, Mike Freeman of Bleacher Report (on Twitter) hears.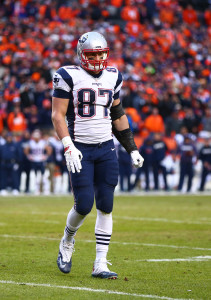 The Patriots will be without Gronk when they take on the Dolphins on Monday night. He will be eligible to return for Week 15 when the Pats travel to Pittsburgh to face the Steelers.
In his letter to Gronkowski, NFL Vice President of Football Operations Jon Runyan wrote the following:
"Your actions were not incidental, could have been avoided and placed the opposing player at risk of serious injury. The Competition Committee has clearly expressed its goal of 'eliminating flagrant hits that have no place in our game.' Those hits include the play you were involved in yesterday." ​
There's never a good time to lose a top weapon like Gronkowski, but the Patriots are in no real danger of missing the playoffs. At 10-2, they hold a virtually insurmountable lead over Buffalo for the AFC East crown. According to the playoff odds at Football Outsiders, the Patriots have a 99.97% chance of reaching the postseason.
However, the ban will hurt Gronkowski's wallet. Not only will he miss out on $281K in lost salary, but the missed game may also impact his incentives package. The tight end's contract includes three different tiers of incentives and he may wind up having to settle for the lowest one rather than the second-ranked tier that he was previously on target for. If that's the case, then the ban may effectively cost him about $2.3MM.
Dwayne Allen and Jacob Hollister currently stand as the Patriots' only tight ends on the active roster. Former Giants standout Will Tye is on the practice squad, so he could be in line for a one-week promotion.
Photo courtesy of USA Today Sports Images.
Follow @PFRumors