The status of Eli Manning no doubt played a part in the Giants firing Jerry Reese and Ben McAdoo, and their departures opened the door for the 14th-year quarterback to be reinstalled as Big Blue's starter for Week 14.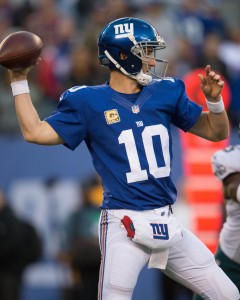 But Manning's future remains cloudy regardless of him being given his job back. Two years remain on the soon-to-be 37-year-old passer's contract, but with base salaries of $10.5MM and $11.5MM in 2018 and '19, Manning should receive some interest if the Giants are indeed keen on moving on without him.
With a month left to play, the Giants stand to hold the No. 2 pick behind the Browns. That is certainly quarterback territory, with Josh Rosen expected to come out and Sam Darnold a reasonable bet to follow suit. Wyoming's Josh Allen is also viewed as a first-round prospect, and he's expected to declare early as well. John Mara instructed his front office to ramp up quarterback evaluations as this season began to go south, and given the sequence of events that led the franchise to be in position to acquire Manning in the first place, the Giants turning its first awful season since that seminal 2003 campaign into another first-round quarterback wouldn't be shocking.
However, if the Giants don't finish with a bad enough record to land in quarterback territory — or if the next GM believes enough talent is present to keep Manning and the veteran-laden defense that booked a 2016 playoff berth together — that could change things. Manning threw 35 touchdown passes two years. His play's dropped off a bit since, but Big Blue's had severe offensive line issues the past two seasons.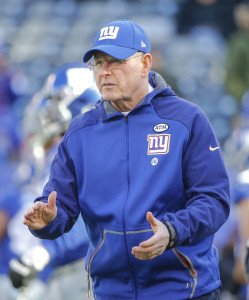 There figures to be interest if Manning does leave. He plans to play next season, and GMs told CBS Sports' Jason La Canfora a reunion with Tom Coughlin makes too much sense not to happen. Coughlin spoke up in his former charge's defense after he was benched.
The Jaguars can shed Blake Bortles' contract free of charge after the season, and their work this fall has shown what the defensively powered team is capable of with a bottom-tier quarterback. That could be attractive to Manning, the Jags' lack of a comparable football tradition or similar media market (compared to his current team) notwithstanding. Although, both Allen Robinson and Marqise Lee are pending UFAs, leaving the pass-catching crew uncertain. But Manning could certainly improve their chances at pushing for a Super Bowl berth compared to Bortles.
The other presumptive suitor may trail the Jaguars, since it's not known if the Broncos would consider it. But Denver's two primary passers this season are Pro Football Focus' two lowest-graded players at sports' premier position. The Broncos' pass defense has fallen off its otherworldly perch of the past two years, but thanks to improved run-stoppage ability, the unit overall ranks fifth. And with Paxton Lynch having shown little before and during an injury-marred 2017, the Broncos — who have the core of their Super Bowl defense still under contract through 2018, with most signed through at least '19 — could be back in the mix with better quarterback play.
While the Broncos obviously had immense success with Peyton Manning, they did not opt to pull the trigger on Tony Romo in a similar situation this offseason. One of the most durable players in NFL history, Eli Manning would not bring the health issues those two icons did. But the Broncos appear to be behind the Jaguars in this figurative derby to this point due to the Jags having a less complicated route to acquiring him, and Coughlin's presence figures to make a big impact if Manning does opt to waive his no-trade clause in the event of a Giants rebuild.
The Dolphins are not believed to be interested. Neither are the Cardinals. The Vikings have three passers on expiring deals and a loaded defense, but it would stand to reason they'd rather retain one of them than pursue an older quarterback.
So, who gets Manning next season? Does the Giants' about-face point him back to New York for a 15th season, or does their 2-10 record lead the franchise to fully embrace a rebuild? Is the Jaguars connection too obvious not to occur, or would John Elway consider a second Manning to elevate his franchise?
Or does Manning take the Romo route and retire as a Giant, having been one of the most important players in franchise history and having guided the historic operation to two Super Bowl titles? Vote in PFR's latest poll and weigh in with your thoughts in the comments section!
Photo courtesy of USA Today Sports Images.
Follow @PFRumors