In 2001, the WWF and NBC attempted to go toe-to-toe with the NFL. Despite a debut broadcast with tremendous ratings, the XFL quickly fizzled and folded after just one season. It now appears that wrestling magnate Vince McMahon could be ready to take another shot at professional football.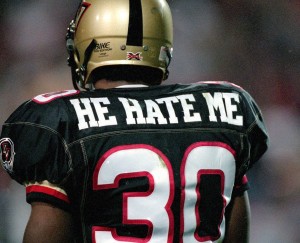 "Vince McMahon has established and is personally funding a separate entity from WWE, Alpha Entertainment, to explore investment opportunities across the sports and entertainment landscapes, including professional football," the wrestling organization said in a statement issued to David Bixenspan of Deadspin (Twitter link). "Mr. McMahon has nothing further to announce at this time."
McMahon's first try at football wound up costing his company tens of millions of dollars. If there is a second act for McMahon in football, he is making it known that it will not affect the WWE's bottom line or impact its shareholders.
It's not immediately clear how serious McMahon is about restarting the XFL or when the league might re-emerge. The WWE filed for two new XFL trademarks this year, according to Bixenspan, though it is common practice for companies to renew their trademarks when they come due.
The first time around, viewers found the on-field quality of the product to be poor and the off-field branding overtly crass. McMahon could try a different spin on marketing his league, but there's no realistic way to increase the talent level without some type of partnership with the NFL. In the recent ESPN documentary on the failed league, McMahon hinted that a potential reboot "would tie in either with the NFL itself or the owners," but it's hard to imagine Roger Goodell & Co. going down that path.
Follow @PFRumors