In advance of March 14, the start of free agency in the NFL, Pro Football Rumors will detail each team's three most glaring roster issues. We'll continue this year's series with the Miami Dolphins, who missed the playoffs with a disappointing 6-10 record.
Pending Free Agents:
Top 10 Cap Hits for 2018:
Other:
Projected cap space (via Over the Cap): $14,227,046
11th pick in draft
Must exercise or decline 2019 fifth-year option for WR DeVante Parker
Must exercise or decline 2019 fifth-year option for LB Stephone Anthony
Three Needs:
1. Offensive guard. This was a rough year for the Dolphins offensive line between injuries and the midseason scandal that resulted in OL coach Chris Foerster's resignation. The Dolphins finished the year 30th in run blocking according to Football Outsiders' adjusted line yards metric and that's bad news since the team clearly needs to establish the run game going forward.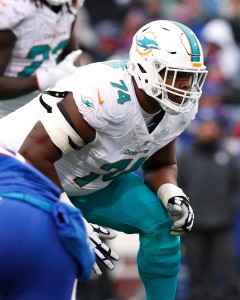 Miami placed dead last in the league with 360 rushing attempts in 2017. For reference, the franchise record for fewest rushing attempts in a season is 326, back in 1967 when the regular season was only 14 games long. On a per game basis, Miami averaged just 22.5 carries per game this past season versus 23.9 in '67. Much of that has to do with the Dolphins often playing from behind last year, but the Dolphins must keep defenses honest with a balanced offensive attack next year.
"There are some times where you just go, 'Man, we're getting it,'" former offensive coordinator Clyde Christensen said of the team's run blocking back in December (via Chris Perkins of the Sun Sentinel). "And then there are times where you go, 'How does that happen? How did we set him free?'"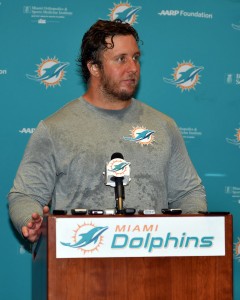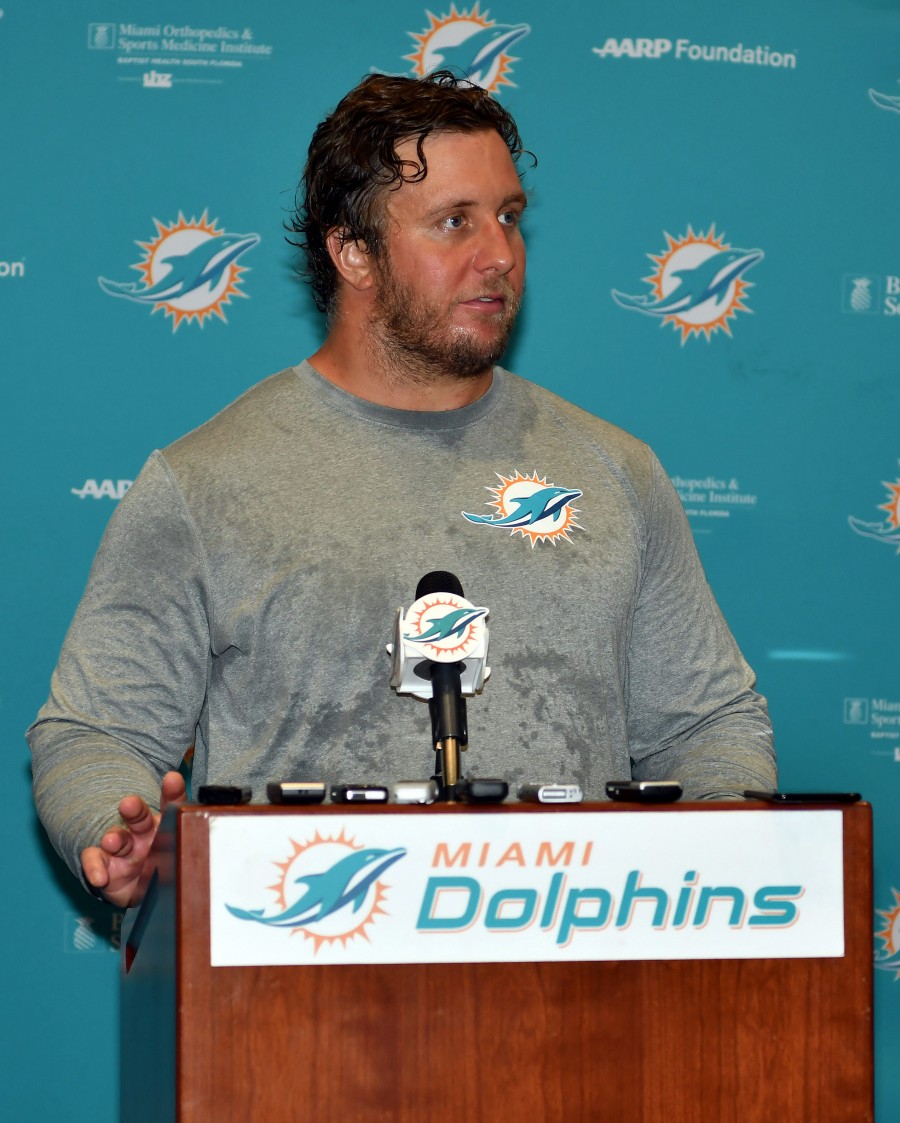 The Dolphins' starting guards – Jermon Bushrod and Ted Larsen – are both due for free agency. Given that they both graded out as the No. 62 and No. 67 ranked guards in the league, per Pro Football Focus, and battled injuries, they are unlikely to return as first shift interior linemen. Jesse Davis (ranked 63rd by PFF) and 2017 fifth-round choice Issac Asiata remain under contract, but neither player is in line for a promotion. In theory, Laremy Tunsil could be moved from tackle to guard, but the team has said that he will remain on the outside.
Whether it's through free agency, the draft, or trades, the Dolphins need to add at least two guards this offseason.
2. Find a skilled tight end for Adam Gase's offense. The Broncos' offense soared under Gase's guidance in 2013 and 2014 thanks in large part to Gase and the play of Julius Thomas. Thomas broke out over that two year span, averaging 54 catches for 638 yards and 12 touchdowns, despite missing five games. Gase and Thomas reunited in Miami in 2017, but the results just weren't the same. Thomas finished the year with a respectable 41 catches for 388 yards, but his eleven red zone targets resulted in just three TDs.
The Dolphins are expected to release Thomas and free themselves from his non-guaranteed $6.6MM cap charge. However, comments from Gase late last season indicate that the team may consider retaining him at a lesser rate.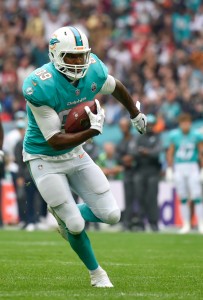 "I see it different than it seems everyone else does," Gase said. "He's done everything I've asked him to do. I wish there's been situations we've called plays for him and haven't been able to get the ball to him either by coverage or the ball didn't go there for whatever reason. When we've asked him to do things in the running game he's given me max effort. He's been there every day for us in practice and at games."
Even if Thomas returns, the Dolphins would be best served by downgrading him to a secondary role and finding a more reliable target for Ryan Tannehill. There are some intriguing names for the Dolphins to consider in this year's free agent market, but all come with serious questions. Eagles tight end Trey Burton caught five passes for 71 yards and two touchdowns in a challenging December matchup against the Rams, but there is limited film on him since he has been playing in the shadow of Zach Ertz. Jimmy Graham was once one of the league's most feared TEs, but he is 31 (32 in November) and averaged just 9.1 yards per reception. Austin Seferian-Jenkins doesn't turn 26 until September and had his best year yet with the Jets, but a deeper look at his numbers – 7.1 yards per reception and 1.3 yards after catch – takes away much of his shine.
There are no obvious answers in the draft, either. The Dolphins have the No. 11 overall pick at their disposal, but top tight ends like Hayden Hurst of South Carolina and Dallas Goedert of South Dakota State are not considered to be top-tier talents worthy of being selected that early.
3. Improve at linebacker. Heading into 2017, the linebacker group appeared to be one of the Dolphins' biggest strengths. Unfortunately, free agent acquisition Lawrence Timmons disappointed and highly-touted second-round pick Raekwon McMillan missed the entire season with a torn ACL. Meanwhile, holdover Kiko Alonso flopped, grading out as just the No. 75 ranked LB in the NFL, per PFF. The Dolphins allowed 1,034 yards to opposing tight ends and Timmons, ranked 67th at his position by PFF, was Miami's highest-graded LB. Clearly, something has to change.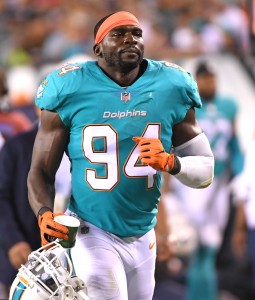 Alonso is all but assured to return thanks to the four-year, $28.91MM contract he inked with the Dolphins last year. Timmons is slated to come back with an $8.225MM cap charge, but Miami could release him with little financial penalty thanks to his 2017 suspension for going AWOL. At least one other LB spot will free up with the expiration of outside linebacker Koa Misi's deal. Misi, 31, missed all of 2017 and much of 2016 with back issues. He was ranked as a top-30 LB in 2015 and 2016, but the Dolphins will probably stop chasing that dragon this year.
Alonso and Timmons are both among the team's top ten cap charges and that's a lot of money to be tied up at the head of an underperforming unit. With just ~$14MM in cap space and other pressing issues to address, the Dolphins have to identify some ready-for-primetime LBs in this year's draft.
Photo courtesy of USA Today Sports Images.
Follow @PFRumors