In advance of March 14, the start of free agency in the NFL, Pro Football Rumors will detail each team's three most glaring roster issues. We'll continue this year's series with the Philadelphia Eagles, who overcame the loss of their MVP-caliber starting quarterback to win the Super Bowl.
Pending Free Agents:
Top 10 Cap Hits for 2018:
Other:
Projected cap space (via Over the Cap): -$9,426,190

32nd pick in draft

Must exercise or decline 2019 fifth-year option for WR Nelson Agholor
Three Needs:
1) Figure out what to do with Nick Foles: After the Eagles lost starting quarterback Carson Wentz to a torn ACL in Week 14, no one gave them much of a chance to sustain an extended postseason run. Although Philadelphia boasted one of the best overall rosters in the NFL, backup signal-caller Nick Foles didn't inspire a ton of confidence. And he probably shouldn't have: aside from one solid 2016 start with the Chiefs, Foles hadn't been productive since the 2013 campaign (which also came with the Eagles). Philadelphia received a first-round bye after securing the No. 1 seed in the NFC, but a short playoff stint looked exceedingly likely.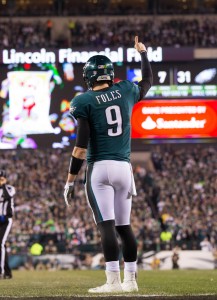 We all know what happened next. Despite being the underdog in each game, the Eagles held on against the Falcons in the Divisional Round, destroyed the Vikings in the NFC Championship, and pulled out a classic against the Patriots to win the first Super Bowl in franchise history. Foles was surgical, completing 28-of-43 attempts for 373 yards and three touchdowns while catching a touchdown pass from tight end Trey Burton on a fourth down, Philly Special play call. Two years after contemplating retirement, Foles is the reigning Super Bowl MVP.
So what do the Eagles do with Foles now? He's not going to return as a starter in 2018, as Wentz is Philadelphia's franchise quarterback and was on track to be named league MVP before he went down with injury. But that doesn't mean Foles can't come back as Wentz's backup for another season, especially given how he proved his value during the Eagles' Super Bowl run. But Foles is expensive: discounting Mike Glennon, who is sure to be released this offseason, Foles is the league's highest-paid No. 2 quarterback. He's due to count for $7.6MM on Philadelphia's 2018 salary cap, and will collect $6MM in cash next season.
Most clubs would be able to afford a top-tier backup signal-caller at Foles' price, but the Eagles' salary cap situation is dire. At present, Philadelphia ranks dead last in expected 2018 space, and is projected to be nearly $10MM over the cap when the new league year begins in March. If Foles is traded, the Eagles would pick up $5.2MM in cap room, a penance to many teams but a critical amount for Philadelphia. There are other ways for vice president of football operations Howie Roseman to create space, to be sure, but trading Foles would also allow the Eagles to add draft capital, another benefit for a team that currently lacks a second- or third-round pick.
What type of return the Eagles can expect for Foles is an open question. Here's a look at how much several comparable quarterbacks have cost over the past two seasons:

Jacoby Brissett is the absolute floor for a possible Foles trade, but Jimmy Garoppolo and Sam Bradford are both acceptable comps. Sure, Jimmy G now looks like one of the NFL's next great quarterbacks, but at the time the Patriots dealt him to the 49ers, Garoppolo boasted only two career starts and 94 career attempts — Foles topped both of those marks (and posted a superior quarterback rating) during the Eagles' playoff run alone. Of course, Garoppolo hadn't put any poor performances on film and was 26 years old when he was traded, while Foles does have some substandard play on his record and is entering his age-29 season.
Like Foles, Bradford was an Eagle at the time he was dealt, and was coming off a campaign in which he completed 65% of his passes for 19 touchdowns, 14 interceptions, and an 86.4 passer rating. While he never hit the highs that did Foles, Bradford managed his competent performance over a 14-game stretch, giving an indication that his production would be sustainable going forward. Foles was excellent over a three-playoff-game sample, but will other NFL clubs be willing to bet on him as a starter in 2018?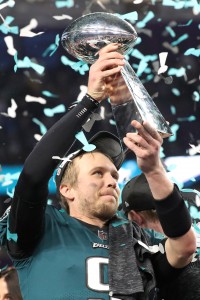 Given that Foles' value is at an all-time high, I don't see how the Eagles can't at least explore his trade value, especially given their salary cap and draft capital situation. I'd set parameters, though, and likely wouldn't accept anything less than a early-to-mid second-round selection. The 2018 quarterback market offers more options — Kirk Cousins, Case Keenum, Bradford — than any in recent memory, so teams may not be clamoring to acquire Foles, but clubs such as the Browns (pick Nos. 33 and 35 in the early second round), the Jets (No. 37), the Broncos (No. 40), the Cardinals (No. 47), and Bills (No. 53) could all express interest.
If Foles is gone, the Eagles will need a new backup quarterback (although they have indicated confidence in third-stringer Nate Sudfeld). Philadelphia isn't likely to find a better option than Sudfeld late in the draft, so a free agent signal-caller would represent the expected solution. Of course, any veteran inked by the Eagles would need to come at a cheaper rate than Foles (otherwise there'd be no financial reason to trade him). Josh McCown and Matt Moore stand out as experienced quarterbacks who could competently fill in for Wentz, while a trade acquisition — perhaps the Browns include DeShone Kizer or Cody Kessler in a Foles swap — can't be ruled out.
2) Part ways with Jason Peters, but find a swing tackle: We've already covered the Eagles' ominous salary cap situation, but trading Nick Foles might not be the only financially-motivated move Philadelphia needs to make over the coming weeks. Veteran left tackle Jason Peters, who played in seven games before tearing his ACL, is set to count for $10.667MM in 2018, an unpalatable figure for a 36-year-old coming off injury. While Eagles head coach Doug Pederson recently indicated Peters will return to Philadelphia next season, Pederson isn't the one making the tough cap-related decisions — those calls will fall to Howie Roseman, who must weigh Peters' ability against his cost.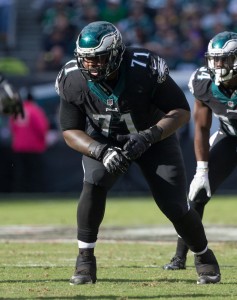 However, the Eagles will almost certainly have to trade Peters if they want to experience any cap relief. Under the terms of his recent extension, Peters garnered a $4.5MM injury guarantee for the 2018 season. Given that he tore his ACL in October, Peters likely won't be able to pass a physical before that total becomes fully guaranteed in March, so Philadelphia will be paying the sum either way. In fact, it will cost more — $10,833,334 vs. $10,666,666 — to cut Peters than to keep him on the roster next year, provided that $4.5MM guarantee kicks in.
As such, a trade of Peters is the only way the Eagles can get his cap charge off their books, and I'd expect a number of teams to be interested in acquiring a high-quality tackle, even an aged one with a knee injury. Peters, a likely future Hall of Famer, graded as the NFL's seventh-best offensive tackle before going down in 2017, per Pro Football Focus, meaning he's still a valuable commodity. Club such as the Patriots (if they lose Nate Solder to free agency), the Bengals, the Texans, the Jaguars, the Buccaneers, and the Cardinals could all use a left tackle, and Peters would only cost an acquiring team $6.75MM next season.
The reason the Eagles can feel comfortable trading Peters is Halapoulivaati Vaitai, who struggled when first pressed into action at left tackle but greatly improved as he gained repetitions. The former fifth-round pick is under contract for two more seasons at cheap rates, while right tackle Lane Johnson is signed through 2021. Philadelphia is set as far as starting tackles go, but if the club trades Peters, it will likely need to add a new swing tackle capable of covering for either Vaitai or Johnson in the event of injury.
While the Eagles could scour the free agent market for a new backup offensive lineman, there's not much out there. Players such as Solder and Cameron Fleming will be looking for starting jobs, while taking a chance on failed starters such as Greg Robinson or Donald Stephenson doesn't seem viable. Austin Pasztor could be an intriguing addition, as he was excellent as the Browns' right tackle in 2016 befor finding surprisingly tepid demand the following spring. Additionally, Matt Tobin — whom the Eagles traded to the Seahawks last year — could be interested in a reunion with Philadelphia.
The Birds won't have the luxury of adding a developmental tackle in the second or third round, but they could use their first-round selection on a front five player. An ideal situation would see one of the draft's top three tackles — Mike McGlinchey (Notre Dame), Connor Williams (Texas), and Orlando Brown (Oklahoma) — fall to No. 32, but if that doesn't happen, Philadelphia could select Kolton Miller (UCLA) or Will Richardson (North Carolina State) in the mid rounds. The Eagles should focus on linemen capable of playing both tackle and guard, as incumbent left guard Stefen Wisniewski was the weak point on an outstanding offensive line.
3) Sort out the linebackers: The Eagles won the Super Bowl without the benefit of Wentz and Peters, but they weren't the only top-tier Philadelphia players that went down in 2017. Linebacker Jordan Hicks — who was outstanding during his first two years in the NFL — ruptured his Achilles in October, ending his season. While Hicks should be available when the 2018 gets underway, the Eagles will still likely need to bring in at least one linebacker this offseason.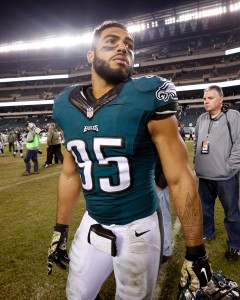 The need for another 'backer will be lessened if Mychal Kendricks is retained, but given that he's been involved in transactional rumors for some time, I expect him to be either released or traded in the coming weeks. Kendricks is only 27 years old and graded as the ninth-best linebacker in the league last year, per PFF, but the Eagles can save $4.4MM in cap space by cutting ties with a player who didn't even see 50% playtime on defense. Given his age and pedigree, Philadelphia should be able to gin up trade interest in Kendricks, and that would be the preferred means of removing him from the roster.
Assuming Kendricks is gone, the Eagles will need to add at least one off-ball linebacker, and that could be Nigel Bradham, who is scheduled to hit free agency again after completing a two-year deal in Philadelphia. Bradham has been excellent with the Eagles, but he's probably going to want to cash in this offseason, especially given that he's only 28 years old. I'd expect Bradham to target at least $8MM annually on a multi-year pact, and that's not a price the cap-strapped Eagles can afford.
If Bradham prices himself out of Philadelphia's comfort zone, the club will need to find a cheap free agent to replace him. Off-ball linebackers often see their markets drop once free agency hits, so the Eagles can likely wait out the position and sign a veteran on the cheap. Zach Brown, for example, has been forced to settle for one-year pacts in each of the past two offseasons, and if that happens again, he could move from NFC East team to another and join the Eagles. Meanwhile, 33-year-old Paul Posluszny might be willing to accept a reduced salary in order to play on a Super Bowl contender.
Photo courtesy of USA Today Sports Images.
Follow @PFRumors