Back in January, Matt Eberflus was hired to be Josh McDaniel's defensive coordinator in Indy. Of course, things quickly changed. After having accepted the gig, McDaniels rejected the Colts and decided to stick with the Patriots.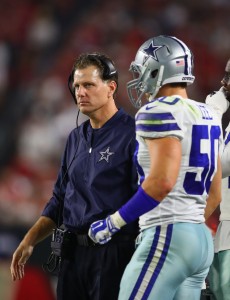 The Colts ended up settling on Frank Reich as their new head coach, but general manager Chris Ballard still ended up honoring the coaching contracts that had already been signed. That meant that despite the unexpected coaching change, Eberflus ended up sticking around as the Colts' defensive coordinator.
While the Colts' front office has been pretty clear about their feeling on McDaniel's flip-flopping, the team's coaching staff has been relatively quiet. Thanks to an ongoing interview series by Andrew Walker on Colts.com, we've got to hear some of Eberflus' thoughts on the ordeal. While the entire article is worth reading, we've highlighted some of the notable soundbites below…
On his reaction to Josh McDaniel's decision to not take the Colts coaching gig and remain with the Patriots:
"Yeah, when you get a situation like that — and I was here with Chris (Ballard), because Chris and I had been talking and I got hired here beforehand — so to me it was a situation where I trusted in Chris, where Chris' vision was and what he was doing, what he's all about — the kind of man he is; really the kind of organization this is, from Mr. (Jim) Irsay all the way down. And, to me, it was not unsettling at all. It was very calming to me; it wasn't a problem, and I knew I wanted to be here, and I'm excited to be here in Indianapolis."
On whether he was questioning his job security after the team hired Frank Reich as their head coach:
"No. Nope. As soon as it happened, Chris walked right in my office and we had a conversation, and it was done from that point."
On his feelings about the defensive coordinator gig after learning about McDaniel's decision:
"Well, you know what? In life adversities happen, and it's how you handle them that count."
On transitioning his mindset from being McDaniel's defensive coordinator to being Reich's defensive coordinator:
"Well, I just found out right from the beginning what kind of guy Frank Reich is. I mean, he is a high-character — same with Chris, same with Mr. Irsay. You find that out when those things happen, and you're dealing with solid individuals and a solid franchise. And, to me, it was, 'Step forward from there and let's go.'"
Photo courtesy of USA Today Sports Images.
Follow @PFRumors