While it was not difficult to see Jim Irsay as the driving force behind the Colts' decision to abandon their Carson Wentz effort after one season, the owner effectively confirmed this Tuesday.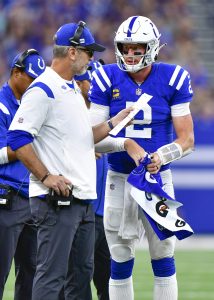 GM Chris Ballard called the Irsay-initiated meeting after the Colts' Week 18 loss "an ass-chewing," and the longtime owner certainly appears to have identified Wentz as the main problem. Irsay's refusal to meet with Wentz, following reports the Colts were done with him, preceded the team trading the former No. 2 overall pick to Washington earlier this month.
"No disrespect to Jacksonville, but I mean, they're the worst team in the league. You play well and hard for the first quarter or so, and they're looking to go to their locker room and clean it out. I've never seen anything like that in my life," Irsay said, via the Indianapolis Star's Joel Erickson. "You say, 'My God, there's something wrong here.' It needs to be corrected. I think that we feel like we did."
Moving away from Wentz became the "obvious" decision, per Irsay, who was grateful the Deshaun Watson saga led to Matt Ryan becoming available (Twitter link via The Athletic's Zak Keefer). Wentz finished with a career-low 4.3 QBR against the Jaguars, who were two-touchdown underdogs, and Irsay criticized the since-traded passer for his failure to lift the team as its season-defining upset took shape. Irsay met with Colts leaders and determined a Wentz-related disconnect existed, per Erickson.
It is safe to say Wentz will have sufficient motivation going into the 2022 season, considering persistent criticism aimed his way over the past several weeks. Frank Reich said this week he believes Wentz can still be a top-10 quarterback, adding "You guys know how I feel about him," but "you have to make the move that you think is right," via The Athletic's Stephen Holder (subscription required). Reich was the last of the Colts' power trio to reach the conclusion the team needed to trade Wentz, Holder adds. Given Reich's pre-Indianapolis connection to the QB, this hesitancy makes sense.
"That was a good debate. That went back and forth," Ballard said, via Holder, of talks between he, Reich and Irsay on Wentz's future. "Look, I mean, Carson was productive for us. Let's be real here. [He threw] 27 touchdowns and seven interceptions. My job is to look not only at the short term but also the long-term implications. And I think sometimes you hang on just because you made a move and you don't want the world to see you in a negative viewpoint. We gotta always do the right thing no matter how it might make me look. I just thought it was the right move for us short- and long-term."