The Jets hit another low this past Sunday. Not only did they get blown out by their divisional rival, but they also lost rookie quarterback Zach Wilson for the next few weeks. While no one in New York is happy with the team's 1-5 record, owner Woody Johnson told reporters that he continues to have faith in general manager Joe Douglas and coach Robert Saleh.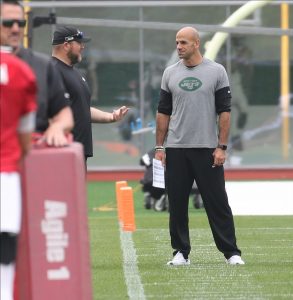 "I've been around for, this is going on 22 years, with my little absence that I had recently, and this is a good group," Johnson said (via ESPN's Rich Cimini). "We will get it right. Last week, you know, [was] frustrating, but now we turn the page and we're off to the Bengals."
The Jets have struggled during Douglas's two-plus seasons in New York, but he's also put together the league's youngest roster and has a clear vision for the future. This is Saleh's first season at the helm, and even if the Jets finish with one of the worst records in the league, there's practically no chance the team moves on from their head coach.
"Just talking to the leadership — Joe, Robert, and seeing how their plans are put together," Johnson said. "How they're deep thinkers, they want to do things like establish a culture and they're getting the right players in the right positions.
"It's just a very young team with a young quarterback. He's 22 years old, he just turned 22. So he's seeing things for the first time like a lot of the quarterbacks now, a lot of the young quarterbacks. It's going to take him a little bit of time, but I have a lot of confidence in Zach, too."